I love fall.  I love everything about it.   The changing leaves, the apple cider, the cooler temperatures and most of all, the fashion!  Layers, layers, layers!  Yep, fall is my favorite season because I get to start layering and in my opinion, one fall piece that is essential to layering is a good jacket.  I have found a variety of fabulous vegan jackets that I am really excited to share with you!
The Plush Coat from ZARA is both a jacket and a cardigan.  Made from a cotton/polyester blend with a great nubby grey texture, this jacket is super cozy like a sweater but gets dressed up with the vegan leather trim and cuffs.  Deep front pockets are a convenient addition to this piece that I bet will become one of your new "go to" jackets for this season.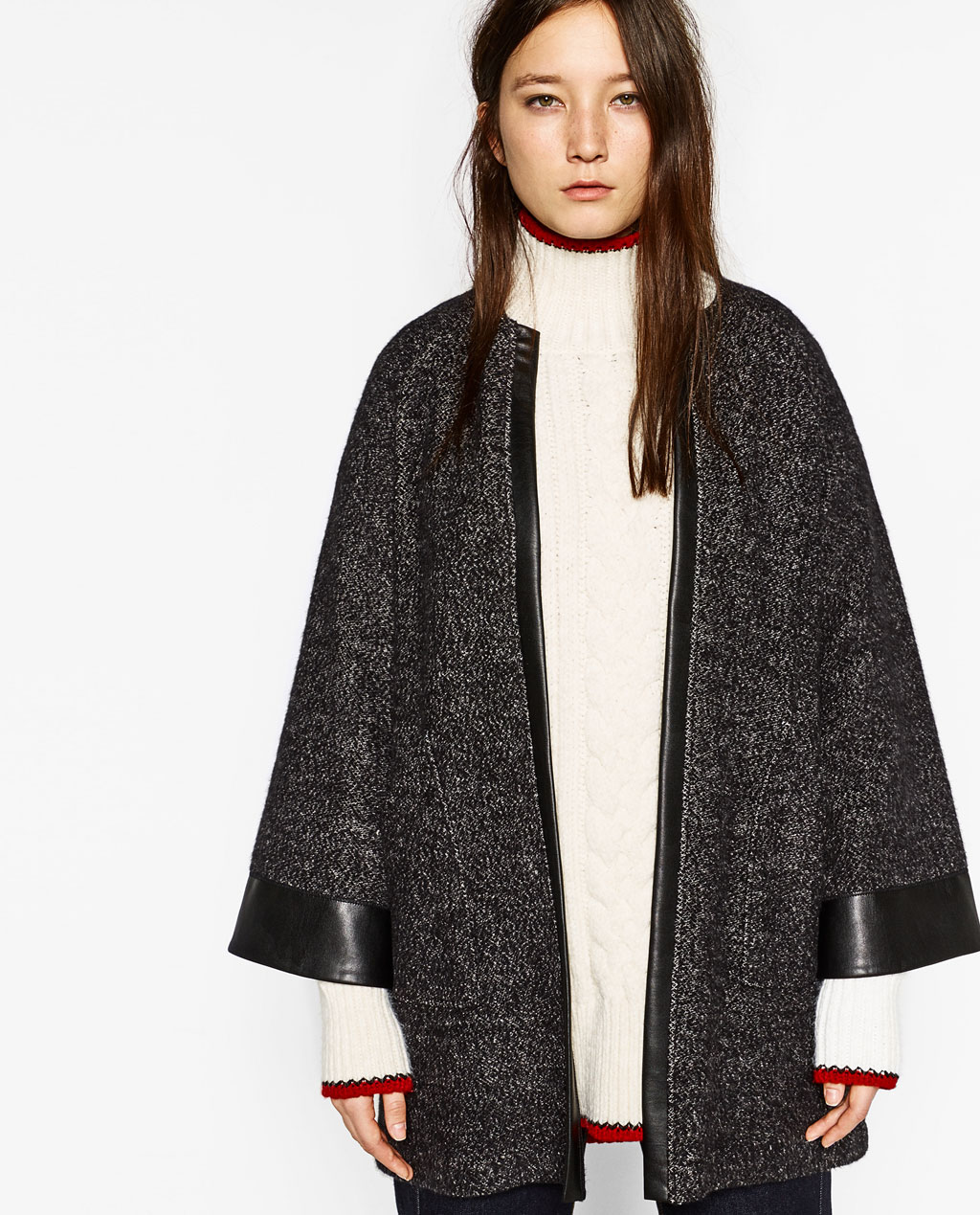 Image Source and Credit: ZARA
The next two jackets I am going to feature are from Betabrand.  Betabrand is a really cool company located in San Francisco that designs and manufactures new products in limited quantities each week.  They use crowdfunding to determine if there is enough interest in a new design to go ahead and start producing it.  Fans of Betabrand also have the opportunity to have input on design process through the Think Tank where you can either submit your own design or vote on designs that have been submitted.  How cool is that?
The Secret-Sweatshirt Pom Jacket from Betabrand is what I like to call cozy sophistication.  Made from luxuriously soft fleece (cozy) the Secret-Sweatshirt Pom Jacket has classic swing-coat styling with a shawl collar and cuffed bell sleeves (sophistication).  The soft grey color and modern print make take this jacket to the next level!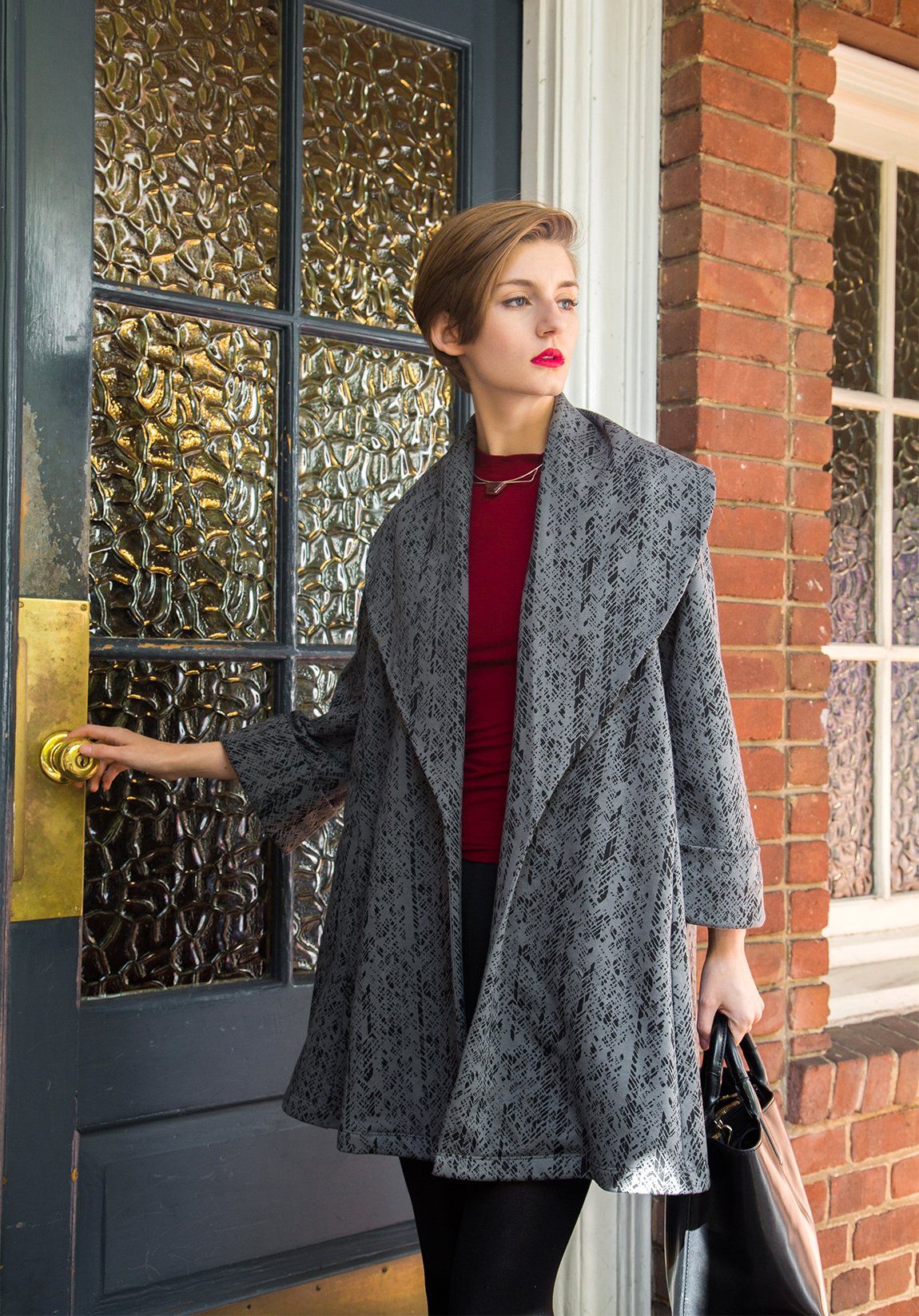 Image Source and Credit: Betabrand
Next from Betabrand is the All-Day Coat.  You might recognize product designer Melissa Fleis from Project Runway, season 10 where she was one of the top three finalists.  Melissa designed this mid-length jacket with great attention to design details.  Made from brushed ponte that's stretchy, warm and comfortable (69% rayon, 27% nylon, 4% spandex) this jacket has an asymmetrical cut that allows for freedom of movement.  The stand up collar can be worn up or down and the stylish hood is perfect to keep the chill at bay.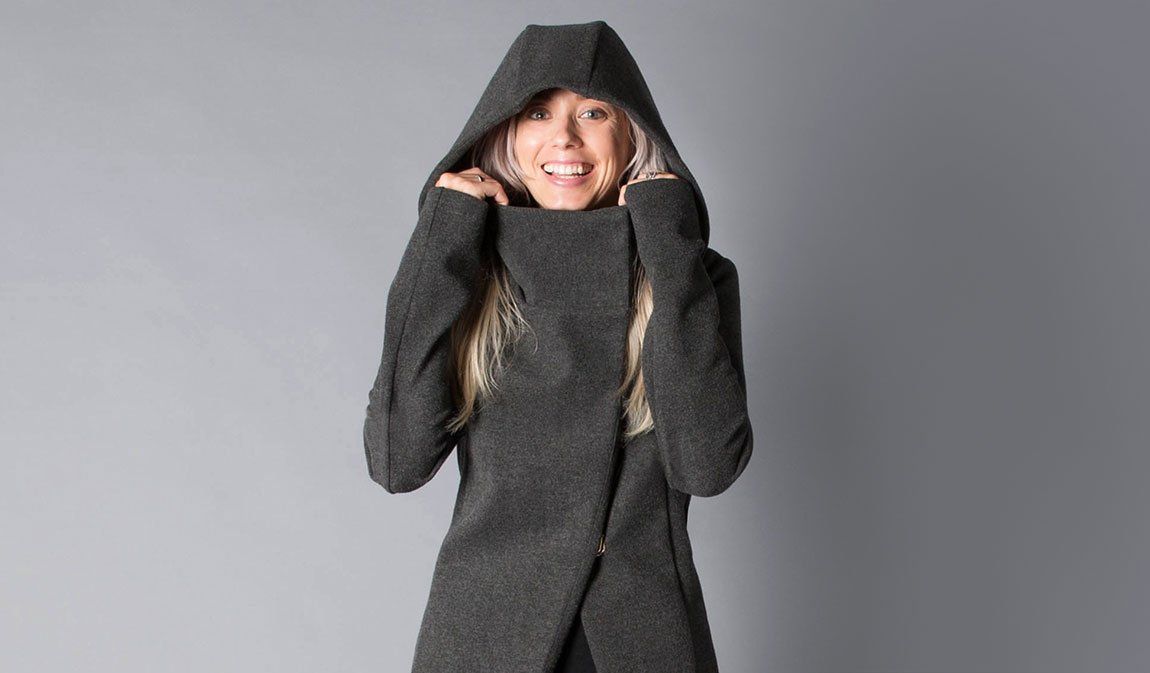 Image Source and Credit: Betabrand
The bomber jacket is big this season and is the perfect coat for the uncertain temperatures that come with fall.  The Rita Oversized Shell Bomber Jacket from Silence + Noise is available at Urban Outfitters and is made from 100% nylon so it is all vegan.  Available in four colors, my absolute favorite is the camo print featured below.  Chic and edgy all rolled into one.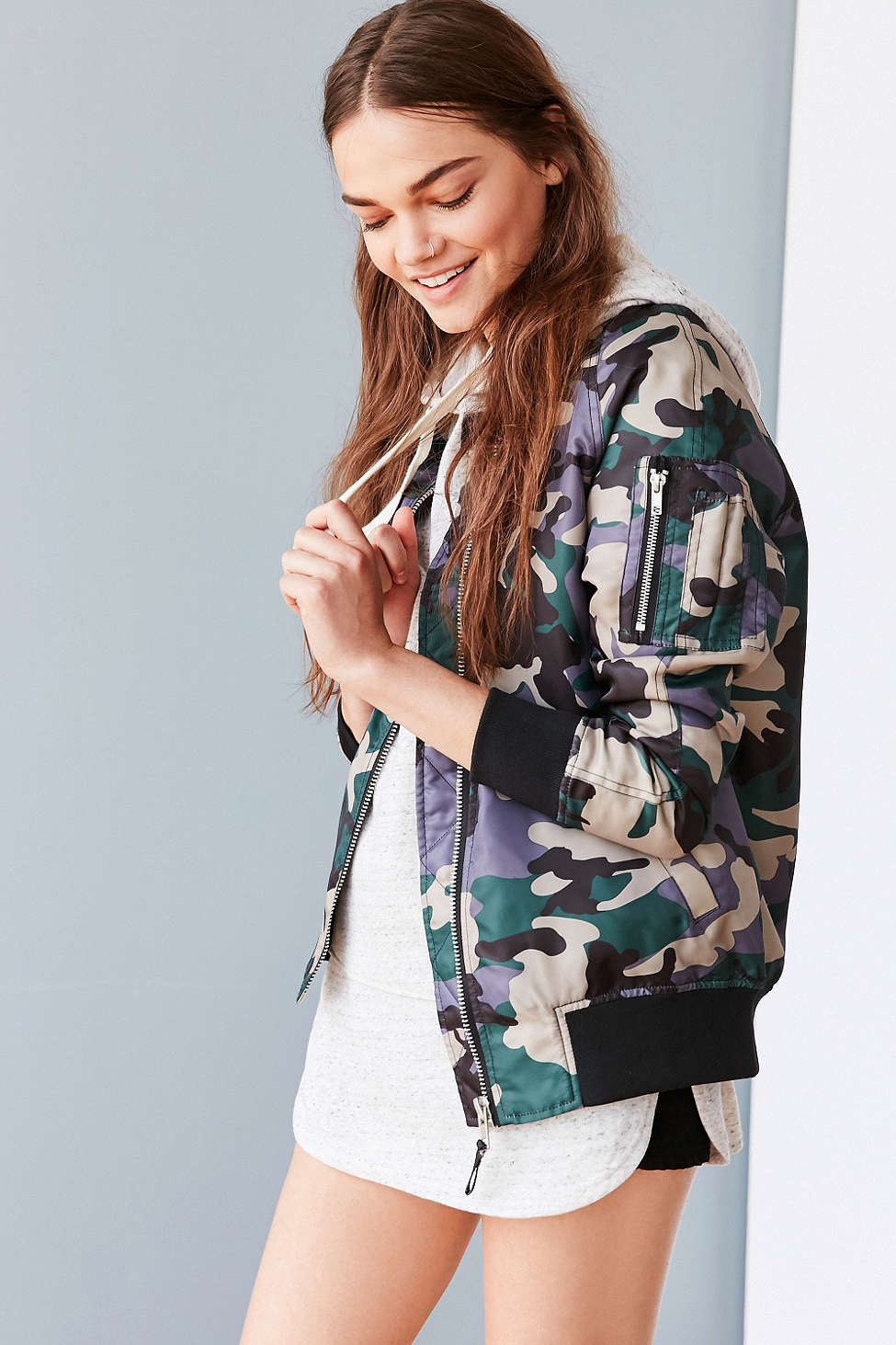 Image Source and Credit: Urban Outfitters
In the world of vegan outerwear there is one company that wears the crown and that is Vaute Couture.  I feel like I would be doing a disservice to you all if I didn't mention at least one Vaute Couture piece for fall because they are a fab company with even fabber jackets.  And yes, fabber is a word…it is in my world at least.  Anyway, back to this jacket.  Featured below is the Bey Superhero Coat  in cherry.  This coat also comes in black and midnight and is made from organic moleskin that is weather proof, snow and wind resistant.  The cut and topstitching on this jacket make it uber flattering and it comes with both interior and exterior pockets to stash all of your goods.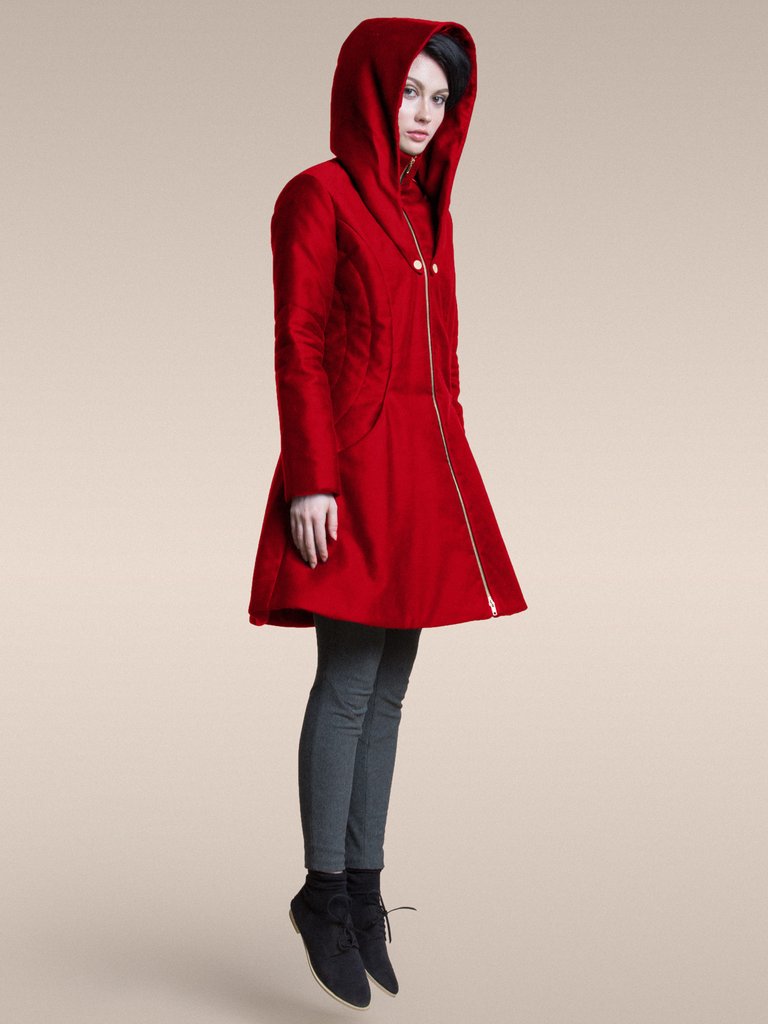 Image Source and Credit: Vaute Couture
I hope that these jackets will inspire you to go and spend more time outside during this lovely season that is far too short in my book.  So go and grab a pumpkin spiced something-or-other and layer away!