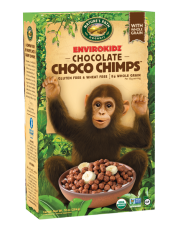 Call me lucky, but my son has never been much of a snacker.  He's perfectly happy with three meals a day and he rarely asks for anything else.  Still, I like to make him treats for his lunchbox.  It's nice to have a little surprise.  I prefer to have some control over that surprise, so he doesn't end up with a store-bought snack full of ingredients I can't pronounce.
I love the idea that you can use something in multiple ways, and cereal is one of those things.  It's great in a bowl with milk (non-dairy, of course) and also straight out of the box.  And many cereals can be used in treats.  If the cereal isn't full of junk – and if your purchase of the cereal does some good – it's a win.  You can do that with EnviroKidz cereal.  EnviroKidz products are certified organic, gluten-free and many of them are vegan.  In addition, 1% of sales go to habitat conservation and education programs.
We tried a box of the Choco ChimpsTM Cereal.  If you haven't tried these, think of Cocoa Puffs without all of the crap.  There's a nice short list of ingredients: Whole grain corn meal*, corn meal*, cane sugar*, fair traded cocoa*, molasses*, natural flavor, sea salt. *Organic.  (source)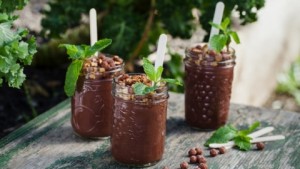 As compared to that other cereal: Whole Grain Corn, Sugar, Corn Meal, Corn Syrup, Canola and/or Rice Bran Oil, Cocoa Processed with Alkali, Caramel Color, Salt, Fructose, Trisodium Phosphate, Natural Flavor.Vitamins and Minerals: Tricalcium Phosphate, Calcium Carbonate, Zinc and Iron (mineral nutrients), Vitamin C (sodium ascorbate), A B Vitamin (niacinamide), Vitamin B6 (pyridoxine hydrochloride), Vitamin B2 (riboflavin),Vitamin B1 (thiamin mononitrate), Vitamin A (palmitate), A B Vitamin (folic acid), Vitamin B12, Vitamin D3.  (source)
What can you do with EnviroKidz cereal?  The website offers a couple of recipes, such as No Bake Cookie Clusters and Chocolate Garden Cups.  After trying some in a bowl with almond milk, I used most of the box to make a variety of the infamous puppy chow.  It was a big hit with my husband and my son.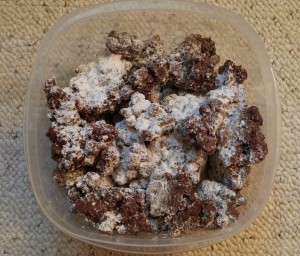 Choco ChimpsTM Puppy Chow
(based on this recipe)
Ingredients
1/2 cup vegan margarine
1 cup peanut butter
1 package chocolate chips
1 box Choco Chimps – 1 box
2 cups powdered sugar
Directions
Melt together margarine, peanut butter and chocolate chips in a large saucepan.
Remove pan from heat and stir in cereal.
Sprinkle powdered sugar over the top, stir again and spread out on waxed paper to cool.
That's it! Break it up and store it in an airtight container.
Tip: I saved about ½ cup of the sugar to sprinkle on after cooling.  The chocolate really soaked up the sugar.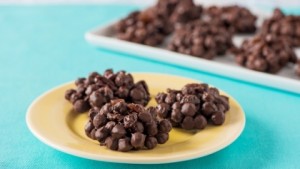 These recipes can all be made pretty quickly, with or without help from the little ones.  If you are really crunched for time (or if you don't want to wash many dishes), you can always try some other fun ideas:
Homemade trail mix. Fill containers with dried fruit, cereal, nuts (if allowed) and mini marshmallows.  Let the kids mix and match as they please.
Sprinkle a bit of cereal on a smoothie, or even ice cream, for an added crunch.
Grind the cereal in a food processor or blender. Use the crumbs as a base for mini pies.  Or make banana sushi, by rolling sliced bananas in the crumbs.
Any of these would be a big hit with most kids.  Use your imagination and see what works.  And make some treats for yourself.  You're never too old for cereal!