These roasted vegetables take about an hour in the oven, but most of that time is passive. Watch some HGTV on Netflix, and get up to lazily stir the roast a couple of times. Supper will be ready before you know it!
A tray of roasted vegetables is total comfort food. Top it with creamy Tahini Miso Dressing, and you've got a perfect chilly evening dinner! This easy roasted vegetables recipe stars my favorite ingredient: the potato!
When I attended the Food = Medicine Conference back in November, I left energized. I'm far from a whole food, plant based vegan, but the speakers there really made an impression on me. We heard from plant based nutrition experts like Dr. Greger, who presented some pretty amazing evidence showing the link between eating more plants and living a longer life with a higher quality of life. I'm not ready to ditch oil or the occasional cupcake, but I have been trying to eat more whole plant foods since that weekend.
One of the speakers who I really enjoyed that weekend was Lindsay S. Nixon, aka The Happy Herbivore. She had lots of great stories to share about plant based health, and there was one thing she said that really stuck with me:
"Embrace the potato."
Amen, sister! If you know anything about my family, it's that we love a potato. We eatmashed potatoes multiple times a week. If Dave isn't jazzed about something I want for supper, I can sway him by offering to add potato. We are potato people.
These roasted vegetables are meant to be the main event, and potatoes are the key to turning a pan of veggies from a side dish into a meal. Potatoes are filling, satisfying, and crowd-pleasing. Over a bed or rice or quinoa, this is an easy meal that you can even make on a weeknight. If you're planning to make a grain to go with this, set it cooking when you put your veggies into the oven. It will be ready by the time your vegetable roast is done!
The point is, I embrace the potato, and I hope these tasty and easy roasted vegetables will unlock your love of potatoes, too!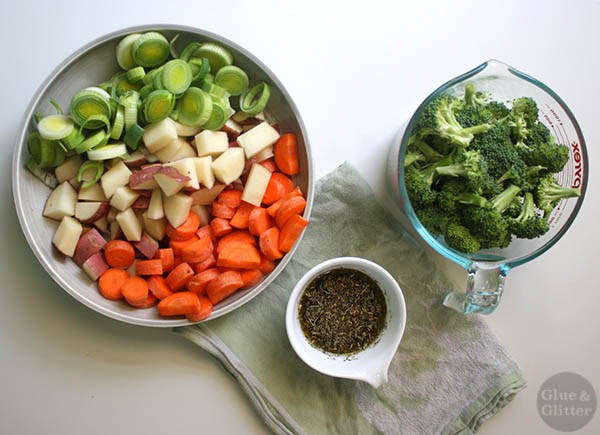 How to Prep Your Leeks
This easy vegetable roast includes leeks, because leeks make everything more delicious. Leeks can also make everything more sandy, unless you prep them properly. Here's how to prep leeks to get the sand out, so all that's left is that oniony, garlicky goodness!
Chop your leeks into the desired size.
Put the pieces into a bowl of water, and use your hands to agitate the pieces. This is you getting the sand out of all of the nooks and crannies.
Transfer to a colander and rinse again.
It's a lot of washing for one veggie, but it's so worth it.
Now that your leeks are ready, prep the rest of your veggies, get them roasting, and make the dressing while the veggies are in the oven. Bing, bang, boom!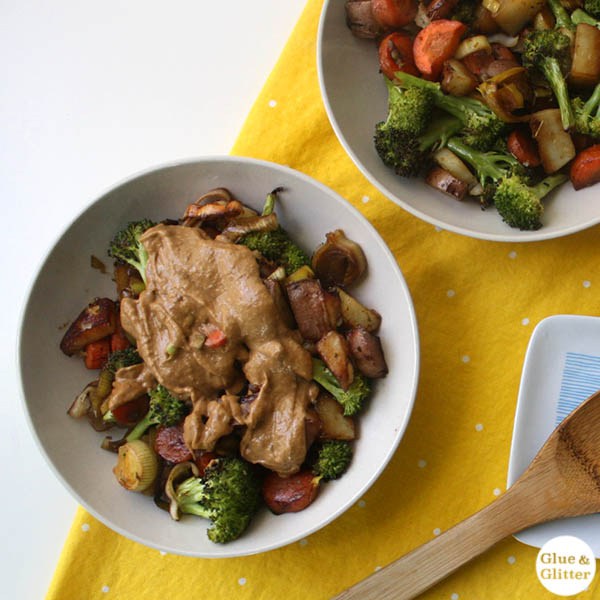 Easy Roasted Vegetables with Tahini Miso Dressing
Yield: 2-3 servings
Ingredients
2 large or 3 small thin-skinned 

potatoes, diced into 1″ pieces (not russets – the skins are too tough!)

2 cups

carrots, chopped into 1″ pieces

2

leeks, light green and white parts only, diced (Save the dark green parts for making veggie stock!)

1/4 cup

olive oil

2 tablespoons 

soy sauce

2 teaspoons

herbes de Provence

4 cups

broccoli florets OR chopped cabbage OR a mixture of both

1 batch

5 Minute Tahini Miso Dressing
Method
Preheat the oven to 400F.
Combine the potatoes, carrots, leeks, olive oil, soy sauce, and herbes in a 9X12″ glass pan, and stick it into the oven for 30 minutes.
Take the pan out, and add the broccoli, stirring to coat it with the oil and soy sauce. You can drizzle a little more oil, if things look dry. This will depend on your oven. Mine doesn't usually need extra oil.
Stick the whole shebang back into the oven for 20-25 more minutes, until the broccoli is browned. I usually stop at 20 min, but if you have larger florets, you might want to go the extra 5.
Serve topped with 1-2 tablespoons of Tahini Miso Dressing.
Republished with permission from Glue and Glitter