Do you know what chemicals are lurking in the cleaning products you use? The products that you scrub your sinks with and the detergents you use to clean your clothes contain seriously harmful chemicals that can cause physical detriment to you and your family. The worst part? Makers of popular cleaning products do not disclose ingredients in their products and do not have to adhere to any regulations! Studies have linked chemicals commonly found in household cleaners to health problems like asthma and reproductive abnormalities.
What can you do?
You can write popular cleaning product manufacturers and tell them that you will not support their company until they start caring for their consumers and become transparent about the chemicals found inside their products. These companies include Procter & Gamble, Colgate Palmolive, and Arm & Hammer – so while you are at it you can tell them what you think about their disgusting habit of animal testing.
You can buy from "green" companies that fully disclose their non-toxic ingredients and have ethical business practices OR (this is the fun part) you can make your own cleaning products and save a TON of money.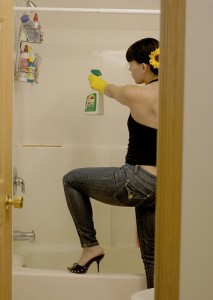 Make your own cleaning products!
All Purpose Cleaner
Use to clean, disinfect, and deodorize a variety of surfaces. Wipe down kitchen and bathroom countertops, stovetops, appliances, and more.
Ingredients & Supplies:
1 cup vinegar
1 cup water
spray bottle
Instructions: Mix vinegar and water in the spray bottle. Spray on surface, and wipe with cloth or sponge.
Caution: Improperly diluted vinegar can harm certain surfaces. Always test first in a small area if unsure.
Surface Scrub
Use in place of commercial creamy scrubs to clean stained and dirtied surfaces.
Ingredients & Supplies:
1½ cup baking soda
½ cup water
bowl or jar
Instructions: Mix baking soda and water in the jar (or bowl) to create a paste. Spread paste over surface, and wipe with sponge. For stubborn stains, let paste stand for 15 minutes before sponging off.
Fabric Softener
Soften your clothes without harsh chemicals with this simple alternative. The vinegar will also help to reduce laundry detergent residue on your clothes, a bonus for members of your household with sensitive skin.
Instructions: Pour vinegar into the laundry rinse cycle (or the fabric softener compartment, if your washing machine has one).
Host A 'Green Cleaning' Party!!!
All this week (May 17-23) people across the country are hosting 'Green Cleaning' parties where they'll teach their friends and family how to mix their own safe and effective surface cleaners, laundry detergent and more. They'll save money AND they'll know exactly what they're spraying, wiping, and sponging. While they're at it, party-goers will be sending a message to cleaning product companies who are refusing to tell consumers the chemical ingredients in their products: until companies come clean about what's in their products, people would rather make their own.
The effort is being organized by
Earthjustice
and
Women's Voices for the Earth
— two groups that have sued cleaning product companies for refusing to follow a right-to-know law requiring them to disclose the chemical ingredients in their products and the health risks they pose.