These adorable chocolate cookies are just a touch sweet from maple syrup. The midnight black color comes from the special dark cocoa powder. These are crunchy and are great dipped in the Spooky Sweet Potato Oatmeal Cookie Dip recipe from The Ghoulish Gourmet e-book.

Creepy Bats and Cats Chocolate Graham Crackers
makes 6 to 8 servings
Dry Ingredients:
1½ cups whole wheat flour
2 tablespoons Dutch-processed cocoa powder (like Hershey's Special Dark)
½ teaspoon baking soda
½ teaspoon salt
Wet Ingredients:
¼ cup maple syrup
¼ cup mild oil (I used an avocado-coconut blend)
¼ cup nondairy milk
Instructions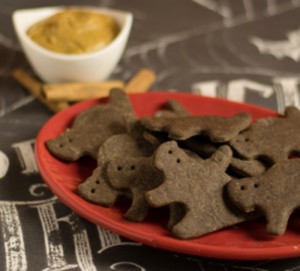 Preheat your oven to 350°. Prepare 2 large cookie sheets by oiling or covering with parchment paper.
Mix all the dry ingredients in a medium-sized mixing bowl. Add the wet ingredients to the dry ingredients and cut in with a pastry cutter or 2 forks. Use your hands to make a ball. If the dough is too crumbly, add another tablespoon of nondairy milk and try again.
Roll out ¼ of the dough at a time on a floured work surface into a medium thickness. Use bat and cat cookie cutters to cut out shapes and gently place them on the baking sheet.
Repeat until all the dough is used. If you use medium-sized cookie cutters, these will need to bake for about 10 minutes. The cookies will be crunchy.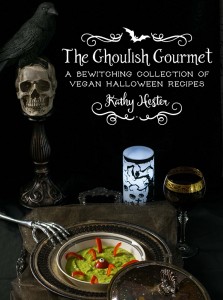 Recipe from The Ghoulish Gourmet by Kathy Hester. Photos by Kathy Hester.
The Ghoulish Gourmet is available for purchase here: http://tinyurl.com/GhoulGourmet