Do you want to live a longer, healthier, happier life? Who doesn't, right? Then Eaternity, the new book by Jason Wrobel, is for you!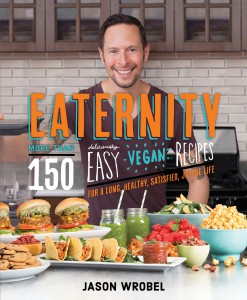 Eaternity is much more than just a cookbook.
Jason starts off by explaining why we should choose to eat healthy, unprocessed, plant-based foods, and he makes learning about nutrition entertaining. You may have seen his Cooking Channel TV show How to Live to 100 or his videos on his YouTube channel The J-Wro Show. Jason makes cooking colorful, nutrient-dense food fun.
The recipe section of the book is divided into categories such as "Eat for Better Sex", "Eat for More Muscle", and "Eat for Better Skin". He outlines what nutrients and foods are the best for each category, then share recipes incorporating these ingredients.
Supreme Vegan Nachos is one of the recipes to promote good moods.
Mixed Berry Parfait aids in better eyesight.
Fancy Grilled Cheese with Golden Fig Jam helps reduce stress.

If these gorgeous photos don't make you want to stop what you're doing and buy the book right now, Jason is hosting an incredible giveaway for those who pre-order the book by April 12, 2016. Check out this Grand Prize Giveaway worth over $3,000!
I hope you are as excited as I am to try Jason's deliciously healthy plant-based recipes and start feeling better today.
Reposted with permission from Veggies Save The Day.