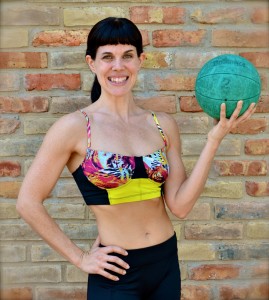 You might have Christy Morgan's cookbook, Blissful Bites on your bookshelf.  If so, you know that she is an extremely talented cook.  Did you also know that her talents extend far beyond the kitchen?  Christy is also editor-in-chief of Definition Fitness Magazine, a relatively new publication that focuses on helping plant-strong women improve their lives and their health.
Chic Vegan:  Tell us your motivation for starting Definition Fitness Magazine.
CM: Christy Morgan: When I got into fitness and lifting weights in 2013, I joined the Vegan Bodybuilding & Fitness group on Facebook. It gave me a lot of great information but I didn't feel comfortable posting personal questions or asking advice about girly stuff. So I started my own group just for women. It was hugely successful and gave women a place to connect. I don't think women – especially those who want to lift and be badass – are supported in general, though that is starting to change with CrossFit. A member of my group suggested we start a magazine. I put out a call to see who wanted to be involved and the rest is history!
The original team of 6 women produced 4 issues in 2014, with over 90 pages of (mostly) ad-free content in each one. We include workouts, recipes, inspirational stories, interviews with amazing vegan athletes, and articles that dispel myths that pertain to fitness and veganism. All those issues are available to read and download for free, so check it out if you haven't already! In order to continue running the website, and with the hope of going to print next year, we started a paid subscription for this year. It's inexpensive (less than a soy latte per issue!) with the amount of content you get. And it's content you can actually use. We work hard on producing really useful and relevant material, and we appreciate everyone's support of the magazine!
CV: Walk us through a day in your life.
CM: I run my own business and do speaking engagements all over the world, so the magazine is what I do in my "free" time. But it takes up a lot of time; way more than I bargained for when I started it. Oops! It's almost a full-time job in itself because, as the editor-in-chief, I manage everything:  administrative duties, social media, coming up with content, editing all submissions, writing stories, running the website, setting up photo shoots, researching vegan athletes, approving graphics, etc. Often, I'm doing this at night after working on fitness programs, having client conference calls and finding time to work out. But I do it happily because I want to help and inspire others. I do have an amazing team of writers and contributors, editors, designers and photographers. There wouldn't be a magazine without them and we are all super passionate about it!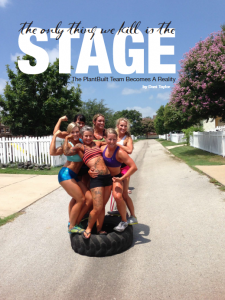 CV: What are some of the challenges and rewards with this project?
CM: Even though we live in a digital world, people prefer to have a paper magazine in their hands rather than read one online. The magazine is beautiful and well designed, has great content and I think it blows the standard fitness magazines out of the water. We're working on getting more people to read it and get excited about it. It's super important we get subscriptions if we want to go to print. Everyone on the team, including myself, is working on a volunteer basis, so any money we make from subscriptions goes into running the website, general expenses, and saving for our first print issue and distribution.
The rewards are endless! I'm able to produce a magazine that I would read. We have received an amazing response from the readers. Most fitness magazines feature women with hard-to-achieve/unrealistic bodies, so one of my main goals was to feature women of all shapes and sizes. People appreciate that. I've had people e-mail me who have transitioned to veganism because our magazine helped show them how, and dispelled the myths that you can't perform and be successful in your health and fitness goals on a vegan diet. Or people share how they were inspired to start a new sport like CrossFit or Powerlifting after seeing vegan athletes in our magazine. We feature all types of athletes and everyday people doing extraordinary things. You don't have to be thin, or ripped, or perfectly airbrushed, to be strong, fit, able, and healthy. I don't think we have ever airbrushed anyone in the magazine.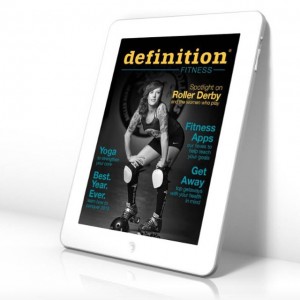 CV:  How can we subscribe to the magazine?
CM: To download single issue ($4.99): https://gum.co/CfUy/issuefive (first 50 people to use this link save $1)
For subscription (which puts each issue at $3.75): https://gum.co/zPOk
To read a sample of the issue or all back issues: http://issuu.com/definitionforladies
CV:  Who's on the team?
CM: We have an amazing team of writers, editors, photographers, fitness experts, and chefs. You can find everyone here on our website.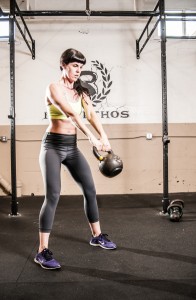 CV:  Where would you like to see the magazine go?
CM: We definitively want to go to print and be on the newsstands one day so that we can position ourselves as a major player in the magazine world. There has never been a vegan magazine that can stand up next to the popular magazines for women like Self, FitnessRX, Oxygen, etc. So we'd like to be the first. And our magazine isn't just for vegans or even women alone. I've had many women who aren't vegan e-mail to tell me how much they get out of Definition. Men, too!
People are always asking when my next book is coming out. Definition is my answer. It allows me to put anything and everything I would put into a book into the magazine. But it stays relevant. When you produce a book it's a snapshot in time. Like with Blissful Bites. I'm a VERY different person than I was when I wrote it. I still love the recipes and the content will always be valid.  But I wasn't an athlete when I wrote that book. It was a very spiritual, soul-searching time of my life, and that is reflected in the writing. My diet is actually a bit different now.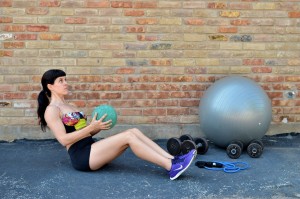 CV: What advice would you give to someone who is just getting started with fss?
CM: Find things you enjoy and love to do. Fitness should never feel like a chore. Every good program will have both a cardio and a resistant-training element. If you join a gym, it will give you more choices of activities to discover and access to more equipment on the weight-training floor. But you can get a good workout at home too.
If you have no idea where to start, hiring a personal trainer at the gym, even for a few sessions, can be helpful. If you work out at home, hiring an online fitness coach like me is a great idea because they can take your goals and design a personalized program to follow with equipment you have available. Time should never be an excuse because your health is important to you. You'll fit it in when you can, even if it means cutting down on Netflix time, or squeezing in 20 minutes here and there throughout the day when the baby is napping.
If you want to go it on your own, there are great workout programs on bodybuilding.com and videos on YouTube. My faves are Fitness Blender and Melissa Bender, though many of those are bodyweight only. So definitely choose some workouts that incorporate weights. I post a new workout each week on my website and Definition Fitness Magazine has workouts in each issue, so check those out too!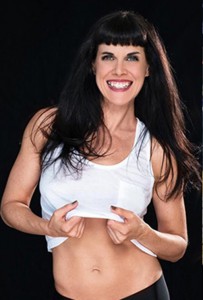 Are you interested in working with Christy?  We can offer one month free to the first Chic Vegan reader who purchases her 16 week personalized fitness program with food plan. Enter the code CHICVEGAN at checkout. Only one person can redeem this code, and it's first come, first serve. Offer expires 3/31 Visit http://theblissfulchef.com/fitness-coaching/ for program details.