Smoky, spicy chipotle chile powder makes this cashew cream sauce perfect for topping vegan enchiladas, tacos, and nachos. Really, you can use it anywhere you'd want a melty cheese sauce.
More cashew cream goodness: Spinach Artichoke Dip with Garlic Cashew Cream
Cashew cream sauce is a magical thing. You can dress it up as a sweet topping for desserts with some maple syrup and vanilla or make it into a rich, savory sauce. The key to a good cashew cream sauce is finding raw cashews. Roasted cashews will not work well in a cashew cream – you'll end up with a consistency that's too gritty. Don't do it!
The other key to a good cashew cream sauce – if you don't have a high speed blender – is the soaking. Your cashews really do need to soak for at least four hours. Overnight is even better. Once they're soaked, drain off that soaking liquid, and you're ready to make your sauce.
Depending on the type of blender you use (and whether you soaked your cashews), you may need more or less liquid. Soaked cashews in a high speed blender would need the least amount of added liquids. If you skip soaking or use a regular blender, you'll need to add more water to get things moving. I don't recommend using unsoaked cashews in a conventional blender. That consistency problem again!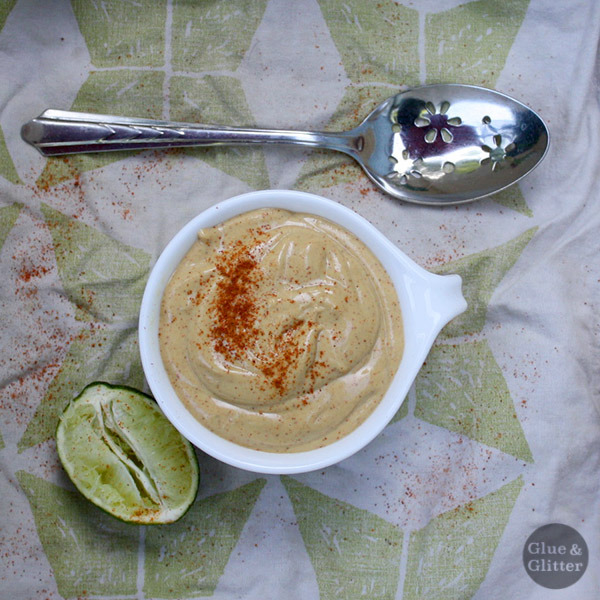 Chipotle Cashew Cream Sauce
Yield: about 1 1/2 cups cashew cream sauce
Ingredients
1 cup

raw cashews, soaked 4 hours or up to overnight

1/2 cup

water

2 cloves

garlic, minced

1/2 cup

nutritional yeast

1 1/2 to 2 teaspoons 

mild chipotle chili powder (Start with 1 1/2, and add another 1/2 teaspoon if you want it a bit hotter.)

juice of 1 fresh 

lime
Method
Combine all of your ingredients in your blender, and puree until smooth. You'll need to scrape down the sides occasionally to get things moving.
If your cashew cream sauce is feeling just way too thick, you can add more water, 1 tablespoon at a time, until the sauce thins enough to puree evenly.
If you liked this recipe, I hope that you'll check out my new vegan cookbook, Bowls! It's full of mix-and-match recipes for creating healthy vegan meals.
Recipe republished from Glue and Glitter.