From award-winning author Virpi Mikkonen, comes a delightful cookbook of both decadent and guilt-free desserts entitled, IT'S A PLEASURE: Sweet Treats without Gluten, Dairy and Refined Sugar (Weldon Owen, September, 2016). This aesthetically gorgeous compilation of sweets showcases how easy it is to make gluten, dairy and refined sugar-free recipes without sacrificing the flavor (or fun!) The book is a true dessert and foodie lover's dream – a compendium of Instagram-worthy sweets, made from high-quality, nutritious ingredients.

Cherry Dream Cake
I love the classic chocolate cherry shakes of the eighties! That's what inspired the flavors for this cake.
Cake Batter
1 1/2 cups soaked cashew or macadamia nuts
1/2 cup grated cacao butter
1 can full-fat coconut milk, refrigerated overnight
2 tablespoons coconut oil
1 teaspoon liquid vanilla stevia, or stevia +
1 tablespoon vanilla extract
1 tablespoon coconut syrup
Flavorings
1/4 cup raw cacao powder
1/4 cup grated chocolate or raw cacao nibs
1 tablespoon almond extract
1/3 cup honey or coconut syrup
1 1/4 cups fresh cherries, halved and pitted
Springform Pan Size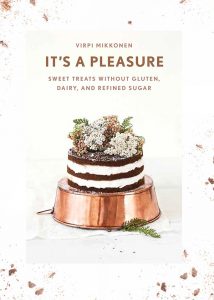 Cake Batter
Soak the nuts for 1–5 hours. Drain and rinse the nuts. Melt the cacao butter in the top of a double boiler. Scrape the thick white layer of coconut cream from the can of coconut milk into a high-speed blender or food processor. Add the soaked nuts, melted cacao butter, coconut oil, stevia, and honey and blend well, until the mixture is even and smooth. Taste and adjust the sweetness if you wish.
Pour about two-thirds of the batter into
a larger bowl and the remaining one-third into a smaller one.
Line the bottom of a springform pan with parchment paper.
Flavorings
To the smaller bowl of batter, add the cacao powder, grated chocolate, almond extract, and honey. Mix well. Pour the chocolate batter into the prepared pan. Place in the freezer until the surface has set, about 15 minutes.
Bring the pan out of the freezer. Add the cherries to the larger bowl of batter and mix quickly. Pour the cherry mixture over the chocolate layer in the pan. Return the cake the freezer for about 30 minutes. Bring the cake out of the freezer, remove from the pan, and place on a serving plate. Serve slightly softened, and keep any leftover cake in the fridge or freezer.
Recipe reprinted with permission from IT'S A PLEASURE (SWEET TREATS WITHOUT GLUTEN, DAIRY AND REFINED SUGAR) by Virpi Mikkonen. The book is published by Weldon Owen.
Editor's Note: Bee Free Honee is a delicious vegan substitute for honey.