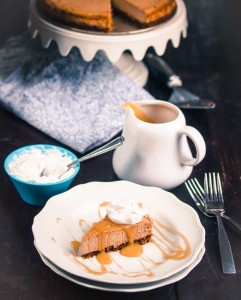 This version of the classic dessert is pure decadence. If you really love cinnamon, cloves, and allspice, serve it with a piping-hot mug of chai for the ultimate spicy indulgence.
CARAMEL CHAI CHEESECAKE
CRUST
6 ounces (170g) pecans
3 tablespoons melted nondairy margarine
3 tablespoons sugar

2 tablespoons superfine brown rice flour
FILLING
1 (350g) package extra-firm silken tofu
3 (8-ounce) tubs nondairy cream cheese, such as Tofutti
2⁄3 cup packed light brown sugar
5 tablespoons superfine brown rice flour
1/4 teaspoon sea salt
1 teaspoon cinnamon
1⁄8 teaspoon allspice

1/4 teaspoon ground black pepper
1/4 teaspoon ground cloves
1⁄8 teaspoon cardamom
1 teaspoon vanilla extract
1 recipe Caramel Sauce (recipe follows)
For the Crust
Preheat oven to 400°F. Pulse the pecans in a food processor, just until crumbly. Stir in the rest of the crust ingredients and press (using hands dusted with superfine brown rice flour) into an 8-inch springform pan.
Bake for 10 minutes and then remove from the oven.
For the Filling
Place all the ingredients for the filling into a food processor and blend until very smooth, at least 5 minutes. Spread onto the prepared crust and bake in preheated oven for 15 minutes.
Reduce heat to 250°F and allow cheesecake to bake an additional 60 minutes. Turn oven off and let cool for up to 2 more hours while remaining in the oven. Chill in refrigerator overnight and then make the Caramel Sauce (page 000) just before serving, so that you have hot caramel sauce on a cold cheesecake. Top with Sweetened Whipped Coconut Cream (page 000). Store in airtight container in refrigerator up to 4 days.
 YIELD: 10 SERVINGS
CARAMEL SAUCE
Ingredients
1 cup brown sugar, packed
1/2 cup nondairy margarine
1/4 cup almond or coconut milk

11/4 teaspoons vanilla extract
Preparation
In a 2-quart saucepan, whisk together the ingredients and warm over medium heat. Cook, stirring, just until the mixture has thickened to a creamy caramel sauce consistency, about 5 minutes. Store in airtight container in refrigerator up to 2 weeks.
YIELD: 1 CUP
Recipe and photographs from Sweet Eats for All by Allyson Kramer. Reprinted by permission from DeCapo Lifelong Books.