Current events have a lot of us thinking about privilege. How may of us stop and think about how lucky we are to wake up and go about our days without fear of being confined, hurt, or killed? It's easy to take these things for granted until they aren't available.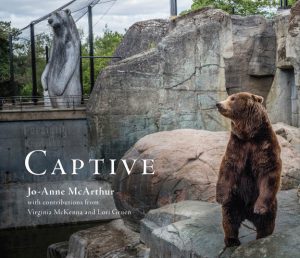 I thought about this as I looked at the photos in Jo-Anne McArthur's new book, Captive.
Captive shows the every day realities of animals who have no choice but to live and die in zoos, aquariums and sea parks around the world. McArthur chooses to photograph these beings as they are, without the distractions exhibits commonly use to great effect on thousands of visitors each year.
As she points out, most zoo visits last 1-3 hours. This is not enough time to see all there is behind the walls, bars, and acrylic windows keeping animals inside their enclosures. We can leave. They can't. They pace and exhibit signs of zoochosis that would be apparent to anyone if they spent more than a few minutes gawking. 
It's evident that when faced with individual stories, people are receptive to learning and to demanding change. We need only look at the effects that Blackfish and the story of Tilikum had on SeaWorld, or how much media coverage Harambe's tragic death last year at the Cincinnati Zoo received. Every photo subject in McArthur's book has his or her own story, a part of which is captured within the pages.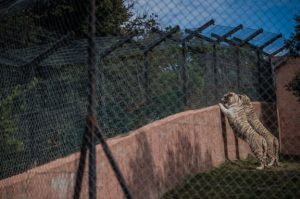 I used to go to zoos. I vividly remember my last visit to the Bronx Zoo, where I took photos of tigers and gorillas behind glass. I watched George & Gracie the lions try to sun themselves on a rock. I paid the extra charge to see the gorillas, never questioning the conservation work used in the name of the New York gorillas who would certainly never wind up in the African wild. I look back at that visit, and I wonder how it was possible for me not to stop and question how things were. I look at this book, at the humans who are incidentally captured in some of the snapshots, and I wonder if they will wonder about themselves that way.
McArthur's talent is in her ability to capture a moment that repeats for each of her subjects, day in and day out… a moment most of us never see. In blocks of text between photos, she gives her account of what this project entailed, of zoo employees and of having to fit in as just another tourist with a camera.
McArthur's companion piece to the book, A Year of Captivity, shares an image and stories about captive animals around the world every day. And from September 7–10 images from both projects will exhibited at Toronto's Harbourfront Center alongside Toronto Vegfest. If you have the opportunity to attend this exhibit or one of McArthur's appearances on a book tour this fall, take a friend or loved one with you. The images in Captive are as haunting as they are stunning, as painful as they are provoking. They are an important piece of the conversation we must keep having about how we treat our nonhuman friends. 
---
Thank you to Lantern Books for a review copy of this book and for the photographs accompanying this post.
SaveSave