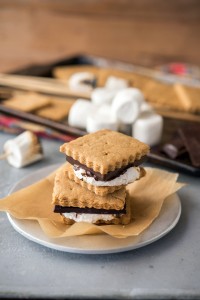 As we all know, one of the items on a vegan's "do-not-eat-me" list is gelatin.  Not a problem to let that one go, once you realize how it's made.  It's amazing how something made out of leftover animal parts can be remotely appealing.
But, aside from the jiggly dessert, you don't eat gelatin by itself.  You eat it as part of something else, so you have to be diligent about reading the ingredients list.  Again, not a problem for a seasoned vegan who tends to zero right in on the ingredients of everything anyway (come on, we all do it!).  And where do you find gelatin when you read the labels?  In one of our favorite sugary treats:  marshmallows.
Until recently, it was pretty hard to find a vegan marshmallow.  But now, thanks to the fine folks at Chicago Vegan Foods – the same fine folks who brought us Teese, by the way – we have Dandies.  Dandies are yummy vanilla-flavored marshmallows that are just like traditional marshmallows.  Light and fluffy and sweet.  My husband and son, who aren't remotely vegan, prefer them to the brands made with gelatin.  Score!  The texture is really spot on.  And the vanilla flavor makes them extra tasty.
Dandies are non-GMO verified and made in a peanut/tree-nut free facility.  You can find them in a traditional or mini size.  As mentioned, here's what's on the label:
Product Information
Melts and tastes just like a traditional gelatin-based marshmallow
100% Vegan
Gluten free
Corn and corn syrup free
Free of most common allergens
Made in a dedicated vegan facility
Certified Kosher by cRc
Non-GMO Verified

Ingredients: ALL VEGAN, NON-GMO VERIFIED
Tapioca Syrup, Cane Sugar, Tapioca Starch, Filtered Water, Carrageenan, Soy Protein, Natural Vanilla Flavor.
CONTAINS NO: dairy, gluten, peanuts, tree nuts
(Source)
Not completely perfect, but, hey. these are marshmallows.  No one is making a health-food claim here.
You can use Dandies in any recipes calling for traditional marshmallows.  Crispy treats, sweet potato casseroles, ice cream, cocoa, and even in coffee (really good, try it!).
Then we have s'mores.  Graham crackers, chocolate, and melted marshmallows are all you need for a snack that is super sweet and messy, but a great treat for the kid in all of us.  In honor of National S'Mores Day (coming up on August 10), get out your Dandies and make yourself a treat.  The basic recipe is pretty easy, but you can use your imagination and dress them up any way you like.  Or change it up and make s'mores pancakes or dip.  Just don't forget the marshmallows!
To help you celebrate National S'Mores Day, here's a coupon for Dandies from Chicago Vegan Foods: http://bit.ly/dandies-coupon-50
Photos by Jackie Sobon