Unless they are happily married to a fellow vegan, or have one of those mysteriously successful vegan/non-vegan relationships, most herbivore romantics have at least a fleeting desire for the perfect vegan companion. Someone warm, compassionate, strong and intelligent. Someone who gets the choice to be vegan and has committed to the lifestyle. Someone to walk the walk with us.
And it wouldn't hurt if that someone happened to look great in a pair of tight jeans.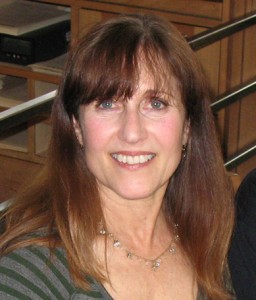 But don't tell that to Rae O'Brien, heroine of Carol Treacy's novel, Vegan Cowboy. At 58, Rae has had it with the men in her life, and, frankly, most of the women too. Between her pizza-scarfing teenage son, her heartless boss, and an eight-year dating drought, you know that Rae is just primed for a major change. But a man? No way, she asserts firmly.
Not unless she finds a vegan cowboy.
Feeling pretty certain that vegan cowboys are about as plentiful as unicorns and mermaids, Rae has settled into her predictable, if not particularly fulfilling life, and told herself not to expect much more.
Little does she know that a harrowing event is looming on her horizon, and fate is about to throw her straight into the path of a man who simply cannot exist. At least, not according to the beliefs of a battle-scarred, sensitive woman who has met one too many controlling men – and women. Rae has lost faith in life, and, more crucially, in herself.
Connecting with and trusting one's intuition is a strong theme of Vegan Cowboy, and learning the practice and benefits of self-trust is part of Rae's journey. Most of us who have not been vegan from birth have experienced the awakening that comes from reconnecting with our intuition. Treacy weaves this idea through the book, and surrounds Rae with a collection of characters who are also in various stages of awakening, or, in a few cases, doggedly determined to remain asleep. In each case, choices must be made and illusions shattered. Consequences must be borne. Relationships come and go; are deepened or ended.
Though part self-awakening story, Treacy's tale is also a romance. It's a lithe and whimsical adventure about dreams – and a few nightmares – coming true. It is the story of two mature, sensible and creative people, learning to trust and to love, while also learning to respect each other's dreams and values. Much of it reads like a lovely, warm bath.
And throughout the pages, the heroine's passionate dedication to animals and her vegan lifestyle also shines through. The activist voice in the book is a strong and crucial element of the story, and contributes to both plot and character evolution. The plight of animals raised for food is laid out, without sugar-coating or apology as various characters learn the dark secrets of animal agriculture.
As for many of us who embrace veganism, Rae's lifestyle is also her passion. But just how do you express that passion? How do you become an advocate for change without making everyone sick of you? And how do you navigate the treacherous waters of motherhood when your only child is a headstrong daredevil and determined meat eater?
Rae tackles all these and much harder challenges. She is an intimately drawn, engaging and highly appealing individual. She is surrounded by a pack of winning – and a couple of quite dastardly – supporting characters.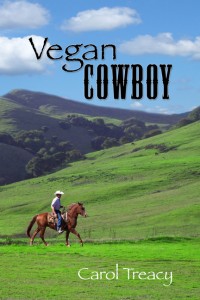 Their story unfolds in the beautiful countryside north of San Francisco, in rolling hills, quiet country lanes, the City of Petaluma, and old farmhouses. Retired hippies and dedicated vegans live alongside slaughterhouses, artists, winemakers, and cattle ranchers. And that makes fertile ground for challenging one's assumptions about others.
Through its homey, tender, humorous and often poignant narrative, Rae's story entertains while it educates and advocates. And for single vegans, it keeps the dream alive.
You can buy Vegan Cowboy at Copperfield's Books in northern California (Calistoga, Napa, San Rafael, Petaluma, Sebastopol, Healdsburg and Santa Rosa) and at Amazon, in both paperback and Kindle. Visit www.caroltreacy.com to learn more about the author, or to purchase Vegan Cowboy directly, through PayPal.