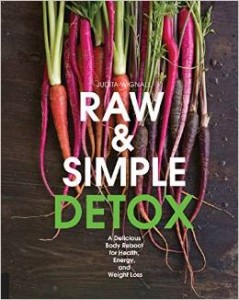 Detox.  I'm pretty sure you can't go a day without seeing this word somewhere.  We use it a lot and usually in a negative way.  Are we really that overloaded with junk? Maybe, maybe not.
But the concept of detoxing – simply removing harmful substances from your body – is a good one. Most of us can afford to clean things up a bit, even if it's just for a few days. And a little bit of education and preparation can certainly make our journey easier.
Raw & Simple Detox:  A Delicious Body Reboot for Health, Energy, and Weight Loss, is the latest book by Judita Wignall, a raw and natural foods chef and health coach.  This book is a guide to help you clean up your diet, your environment, and your life.  If you've read any detox books or tried any online programs, you'll recognize the concepts.  The book covers toxins  – where they are and what they do to your body – and also general guidelines to prepare yourself for a detox.  You'll find instructions and tips on preparing your kitchen (and your body), along with a basic shopping list, and explanations of supplements and other detox techniques.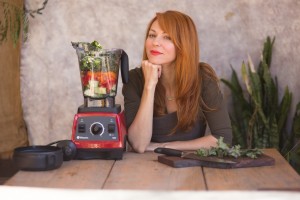 Then we dive into the plan itself.  In general, this detox plan is pretty similar to most.  Warm lemon or herbal tea in the morning, followed by fresh vegetable juice.  Big salads for lunch.  Then dinner is a blended soup or smoothie.  That's the basic outline, but Judita offers several variations, including additional breakfast ideas and afternoon snacks.  It's actually quite flexible.  If you like specifics, there are two seven-day plans, one low-fat and one low-sugar.  I particularly liked the ideas for a winter cleanse, since eating raw in the winter can be difficult for many people.
Overall, the recipes are good.  Note that this is not a completely raw or vegan cookbook.  There is one  recipe for salmon and you'll see honey in some of the recipes.  Still, vegans will find plenty of ideas, such as a Greek Salad With Cashew Feta Cheese, Beanless Spinach Hummus, and a Tabbouleh Salad Wrap (see recipe below).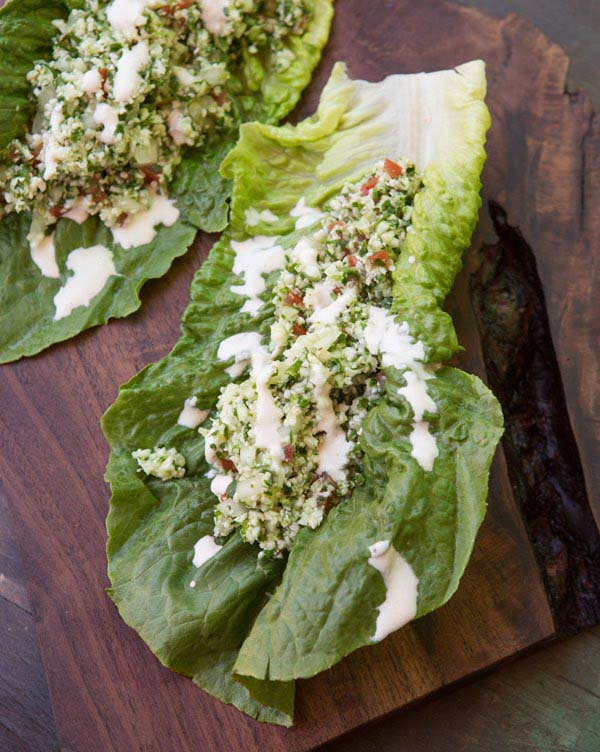 Tabbouleh Salad Wrap
Makes 2–4 servings
PREP TIME: 30 MINUTES
Plan Ahead: Make one batch of Beanless Spinach Hummus or Power Pesto Spread and Quick Pickled Cabbage
Tabbouleh
2 cups (200 g) chopped cauliflower florets
1 bunch parsley, stems removed and leaves chopped
¼ cup (24 g) fresh mint
1 large tomato, seeded and diced
¼ cup (52.8 g) hemp seeds
2 tablespoons (20 g) yellow onion, chopped
2–3 tablespoons (29.5–44.25 ml) lemon juice
2 tablespoons (30 ml) olive oil
½ teaspoon sea salt
Fresh cracked pepper to taste
4–6 Romaine lettuce leaves
Pulse cauliflower in a food processor until broken down into rice-size pieces. Transfer to a medium bowl. Add parsley and mint to food processor and pulse several times until finely chopped.
Transfer to bowl with cauliflower and add remaining ingredients. Toss well. Adjust to taste. Serve tabbouleh over Romaine leaves and drizzle with tahini dressing. You can eat this as a wrap or cut up as a salad. The tabbouleh is even tastier the next day, but it should be eaten within 2 days.
Tahini Dressing
½ cup (120 g) raw tahini
1/3 cup (79 ml) water
¼ cup (59 ml) lemon juice
2 cloves garlic
¼ teaspoon sea salt
1/8 teaspoon black pepper
Dash of cayenne pepper (optional)
Place all ingredients into a blender and process until smooth. Adjust to taste. Note: Store leftover dressing separately for up to 5 days in the refrigerator. If it thickens, just stir in 1 tablespoon
(14.8 ml) of water at a time to thin.
If you are looking for a general cleanse or ideas on living a bit healthier.  Or if you just want to expand your cookbook collection, you'll enjoy this book.