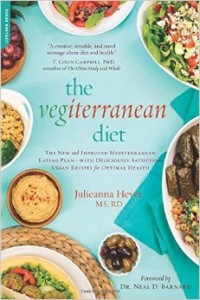 As we all know, the Mediterranean diet has been a favored way of eating for years.  Unlike most diets which focus on the macronutrients and eating more or less of each (depending on the angle of the diet), the Mediterranean diet is really a way of living.  Food is central, but we're talking about whole foods – vegetables, grains, beans, etc.  In addition, activity and relationships are very important to this lifestyle, so it really can benefit your heart and your health in many ways.
That being said, as vegans we find some issues with the "standard" Mediterranean diet.  If you look at the Mediterranean Diet Pyramid, you can't miss the dairy, meat, fish and eggs.  So, if we want to adopt this way of living and eating, we will need to make some modifications.  Luckily, we don't have to work very hard to figure out these modifications, thanks to Julieanna Hever, MD, RD, and her latest book, The Vegiterranean Diet.
Let's be clear:  This is not a cookbook.  Yes, there are recipes, but they are included as part of an overall eating and lifestyle plan that is thoughtfully covered out in the book.  The book is laid out in three sections. Parte Uno addresses the traditional Mediterranean diet.  Starting with a good history lesson and moving on to the benefits and myths of this diet, including research findings and some good information on nutrition, you might want to take notes if this is all new to you.  Some of it is a bit technical, but it's all quite interesting.
Moving on to Parte Due (the Italian sprinkled throughout the book is a fun touch), we get into the foundation of the Vegiterranean diet.  Julieanna addresses the benefits to the animals, to earth, and to your health.  She also lays out the "veg ten" – her own guidelines to success with this way of eating and living.  There is more nutritional education here, too, but it's not as technical as in the first section of the book.
Parte Tre, the last section, helps us with the day-to-day strategies.  Starting with her Vegiterranean Food Pyramid (more nutrition reading), and moving on to real meal plans and social interactions, you can get a feel for how easy it is to incorporate the diet into your day-to-day life.  Julieanna also provides some great recipes.  From soups to Felafel to Moussaka, you'll surely find something to enjoy.  Even the cheese substitutes include nice twists like sun-dried tomatoes.  Yum!
A good dietitian would never let you walk away from a session without resources.  After reading this book, you will have plenty of resources that will help you continue on your own path to living a healthy, cruelty-free lifestyle.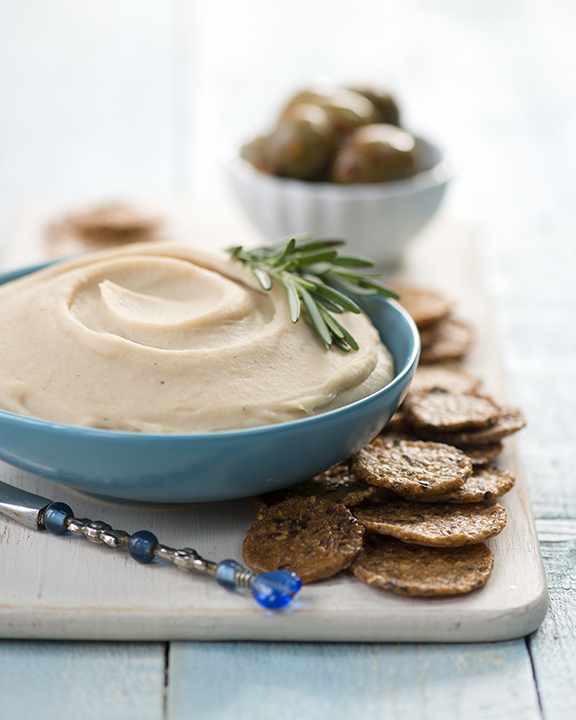 White Bean and Rosemary Dip 
A light and rustic dip that easily accompanies any meal, serve this creamy concoction with whole-grain bread, crudites, or whole-wheat pitas or as a sandwich spread.
Makes 1½ cups
Ingredients
¾ to 1 cup vegetable stock
2 garlic cloves, minced (optional)
1 tablespoon minced fresh rosemary
2 (15-ounce) cans cannellini (or other white) beans, drained and rinsed
2 teaspoons freshly squeezed lemon juice with zest
Pinch of salt and pepper, or more to taste
Preparation
1. In a medium saucepan, bring the vegetable stock, garlic, and rosemary to a boil over medium-high heat until soft, about 5 minutes. Once hot, add the beans and reduce heat. Simmer over low heat until beans soften, 4 to 6 minutes. Add the lemon juice and zest, salt, and pepper and stir to combine.
2. With an immersion blender or transferred into a standing blender, puree until smooth, 5 to 10 seconds.
3. Serve immediately or store in an airtight container in the refrigerator for up to 4 or 5 days.
From The Vegiterranean Diet by Julieanna Hever. Reprinted with permission from Da Capo Lifelong, ©2014