I love beauty products, but I don't love toxic chemicals. Eclair Naturals offers products that cleanse and nourish your skin & hair with all natural ingredients.
The people at Eclair Naturals were kind enough to send me some products to enjoy!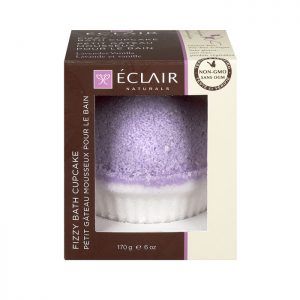 I usually prefer showering, but using the Fizzy Bath Cupcake was a lovely, relaxing soak. I could get use to this! Infused with Vitamin E, it's good for your skin.  With the aroma of lavender and vanilla, it really helps to de-stress. This product is a pretty purple, but not from artificial colors. The natural colors are derived from seeds, pulp, algae and chlorophyll.
Did you know that often, in commercial products, "natural" colors like Carmine, are made from crushed bugs? Definitely not vegan…and yuck.
The All Over Lotion is a good body lotion that's hydrating, but not greasy. I like the fresh vanilla & orange scent.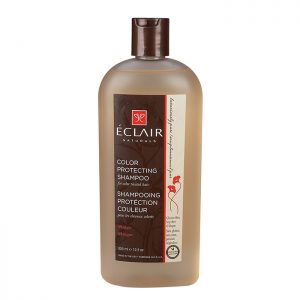 The Color Protecting Shampoo & Conditioner were great for me, as I do color my hair and I've found that more harsh shampoos can make color fade. Usually, commercial shampoos lather up due to toxic sulphates. You won't find those here and you still get a good lather without stripping and drying out your hair. The Conditioners compliment the shampoos for healthy and smooth hair. The mango scent was fresh, not overly powerful.
Eclair Naturals have many more hair & skin care products. The entire line is vegan, never tested on animals and all natural. In addition, they have the added bonus of being non-GMO, as well as wheat free and soy free for the allergy conscious.
Another great thing about this line is their commitment to Social Responsibility. Everything is made in the USA, they strive for zero waste and support worthy causes like www.thegentlebarn.org
Their conscious mission and reasonable price points make these products a very worthy try!