Bacon Cashews are a sweet-savory-salty snack, and they cook up in 10 minutes or less in your air fryer! Get my recipe for Air Fried Bacon Cashews, and check out the recipe video.
Ever since Cadry made air fried chickpeas, I've been wanting to roast cashews in the air fryer, and my Bacon Cashews recipe felt like the perfect place to start. You can make Air Fried Bacon Cashews in half the time it takes to make them in the oven. It's so easy y'all!
 Just like with the oven-baked Bacon Cashews, you only need four ingredients to make this recipe, and the method is mostly about stirring/shaking:
Stir the cashews and sauce ingredients together in a bowl.
Dump everything into the air fryer.
Air fry, shaking occasionally for even cooking and to check for doneness.
Air fried Bacon Cashews are a lovely snack by the handful, and they're also a nice topping for soups, salads, and comfort bowls. Basically, anywhere you'd reach for bacon bits, you can use these instead. They'll keep for 2-3 days in an airtight container.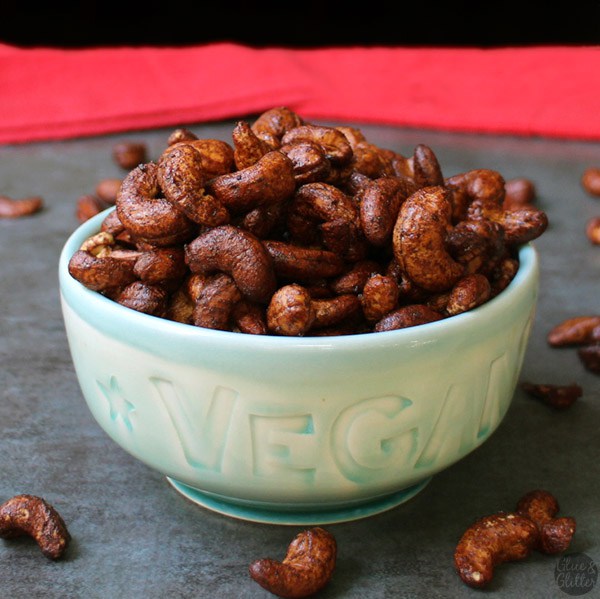 A Couple of Notes about Cooking & Cleanup
You really need to keep an eye on these cashews while they air fry, especially toward the end of the cooking cycle. Roasted nuts darken slightly, and the line between not done and overdone is thin. Keep an eye, and don't skip the shaking. It's key to preventing a burnt mess!
When you're done, your air fryer basket is going to be kind of a sticky mess, but don't panic! Place the whole basket in the sink and fill with hot water. An hour or so of soaking should loosen up any stuck-on molasses. After soaking, any stuck-on sauce should wipe away easily with a soft sponge or towel. Do not scrub your air fryer with the scrubby side of your sponge or anything abrasive, because you can scratch the nonstick coating that makes it work so well.
Watch the recipe video, or scroll down for the written instructions!
Bacon Cashews in the Air Fryer
Ingredients
3 cups raw cashews (I recommend whole cashews for this recipe, but you can use halves and pieces. Just reduce the baking time by a few minutes.)
2 teaspoons salt
3 tablespoons liquid smoke
2 tablespoons blackstrap molasses
Instructions
In a large bowl, toss together all of the ingredients, making sure to coat the cashews really well (and really evenly!).
Pour the cashews into your air fryer basket, and cook at 350F for 8-10 minutes, shaking every 2 minutes to make sure they cook evenly and to check for doneness*. During the last 2 minutes, you should shake/check every minute to avoid burning. The line between done and burnt can be thin with this recipe.
Let them cool to room temperature – about 10-15 minutes – then transfer to an airtight storage container**.
Notes
*The variance in cooking time depends on a lot of things. Whole cashews will need more time, halves and pieces will need less (maybe even less than 8, so keep a close eye!). Humidity in your kitchen will also impact cooking time. Your bacon cashews are ready when the pan is on the dry side, the cashews have darkened a bit, and the house smells amazing. If you taste one while it's cooking, don't worry if it's a little bit chewy – like coconut bacon, these bacon cashews will get crunchier once they're cooled. Trust me: I burnt my first batch, because I was waiting for them to get crunchy. Don't be like me!

**Your bacon cashews will keep for up to 2-3 days in an airtight container at room temperature. And, I'll be honest, I kept mine for a full week and lived to tell the tale. But officially, I am saying 2-3 days.
Recipe republished with permission from Glue & Glitter.