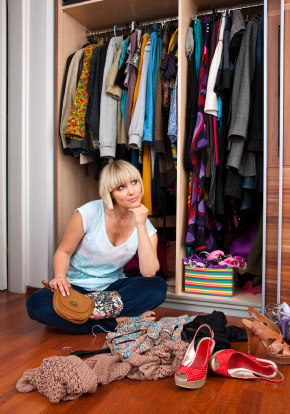 Developing a more minimalistic approach to our closet needs is gaining maximum appeal.
On the backend of this conscious movement, comes the renewed appreciation for buying fewer, deliberately sought basics. As any good personal stylist will agree, purchasing from consignment stores and vintage boutiques can offer buyers quality apparel, at more affordable prices.
Whatever the motivation to streamline and redefine one's closet staples, the decluttering journey can bring surprising financial rewards, when reselling your higher quality, well kept items.
So ask yourself, if you were to develop habits of buying less, at better quality, what resold essentials would you snap up? Maybe you have some worthy pieces in your closet that you're ready to let go of to make space for less?
Here are 7 tips to earning cash while purging your closet:
Spend time at your consignment stores: Get to know your local and online consignment stores' appetite for certain items and brands. For instance do they sell a lot of designer pieces or are their shelves filled with the bread and butter label staples?
Maybe they specialise in evening and special occasion wear? This will help you know where to take/post your various items for reselling.
Develop a mutually trustworthy partnership: Speak with the owner/manager of local stores and follow some online sellers. Find out what their consignment percentage split is and their terms around non-selling items.  In physical stores; It's common for items to be taken off the regular priced shelves if not sold after 2 months, marked down by 50% for a month of promotion, then donated to charity if not reclaimed by the seller.
Promote your wear by season: While there's credence to bricks and mortar stores stocking out of season stock for international travellers, it's probable that your items have a better chance of selling faster if they are taken into the consignment store in their appropriate season, whereas online stores with international reach offer 365 day seasonal appeal.

Know when to sell and when to donate:

Have a generous heart when deciding whether to donate or resell. Donating items can be just as rewarding as earning cash, (maybe even more so). Select only your higher value, well-kept and classically cut pieces for resale.
Bring them in with respect: It's uncomfortable, if not embarrassing, to present grubby items to the stores you want to sell through. So make sure each item is newly washed, ironed and stain-free. Original packaging is a great value-add too. You want them presented like you'd like to buy them, in mint resale condition!
Have all the bells & whistles intact: Whether it's a bag, belt, shoes or garment, ensure it has all its intended metal hardware and accessories. Working zips, studs, buttons, clasps, buckles, are some examples. If there is something missing be sure to disclose it to the consigners or buyer, to then agree on how the pricing will be affected.
Promote your items and chosen resale stores: Now that you are working in partnership with your chosen resellers, be sure to promote their businesses and sustainable-fashion efforts. Post your items on your various social media feeds, with links and tag to the stores, and be sure to share what you're doing with friends and family.
Here are a handful of online resellers to look into: ThredUp, Vestiaire Collective, DePop, and Ebay, and UK-based Vinted.
Feature photo by The Bees, Flickr Commons