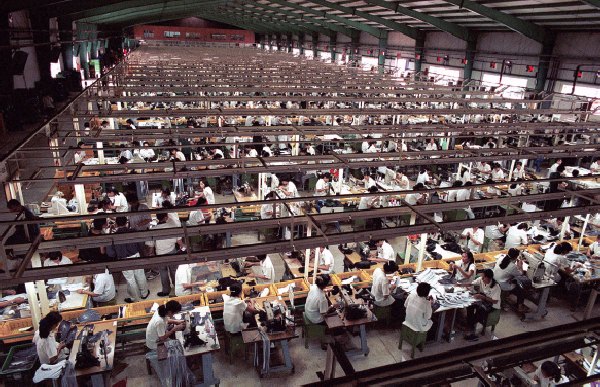 Lately I have been having an internal conflict about certain products that I regularly suggest as "cruelty-free" options for women on a budget. This consists of clothes, shoes and accessories from chain stores such as Forever 21, H&M, Target and other corporations that offer hoards of clothes for incredibly affordable prices. Although these products are technically vegan, it is more of an accidental side effect of cheap mass production. Sure $20 shoes are wonderful for our wallets but what effect do they have on the rest of the world?
Whenever we spend money on a purchase, we are supporting the industry and ethics behind the company. Our purchase is a vote towards that company and their practices.  Do we really wish to support inhumane working conditions, environmental destruction, and corporate greed? Even if animal cruelty is not involved in the process, does that make it ok?
This recent revelation came when I made a quick stop by Forever 21 a few days ago to pick up some basic pieces that I so desperately needed. I spent a bit of time sifting through the endless racks of clothing and trying to control my heart palpitations induced by the cheapest fashionable clothes I had ever encountered. Upon returning home I dumped a huge pile of clothes onto the bed and marveled at the wonder of what $60 can buy. Then I thought about it. Why were these clothes so cheap? What corners are cut that make mass produced clothing so cheap and independently produced clothing so unbearably expensive?  Why does this belt smell like poison?
Most cheap clothing is made in factories by underpaid workers doing their jobs in squalor. Unfortunately like many industries out there, these companies are expected to adhere to vague regulations and monitor production themselves. Think this is only an issue in Asian countries? Think again. It happens in the good ol US of A.
Conventional clothing production puts heaps of toxins into our air, water and bodies. It supports forest destruction and unfair situations for farmers. Cotton production uses more pesticides than any other single crop in the world!
Companies conveniently offering low prices push out small businesses and ruin local economies. They take business away from small shops owned by a single person devoted to quality goods and personal service.
It is often argued that these large businesses provide jobs, but in retail they typically employ people who do not give back to the local economy, and spend most of their money at their place of employment – like teenagers, or younger persons with no mortgage or property tax.
Large retail companies are known to throw out or even burn clothing after each season, instead of giving those garments to charities and people who could greatly use them.
Inexpensive clothing is not made as well as its designer or independent counterpart. After clothing falls apart, stretches or develops holes we are forced to go buy more clothing, creating more waste.
Many trendy chains (I'm looking at you Forever 21) rip off designers who have worked hard to develop their line and a quality product. They sell these sub-par rip-offs for ridiculously cheap prices, devaluing the work of real artists.
Supporting an industry that actively chooses to produce vegan, environmentally  friendly, sustainable products will help make those products readily available and more affordable in the future.
Now the question is – How do we still wear fashionable, and affordable clothing while remaining an ethically well-rounded individual?  THAT my friends is in Part 2 of this article.