My version of tender crock pot collard greens are as smoky and rich as their traditional cousins without any animal products.
The Vegan MoFo theme for today is Make a Traditional Local Dish. I've lived in the south my whole life, moving from Florida to Atlanta in 2001, so something iconically southern felt like the perfect choice for today's writing prompt.
When I think about southern cooking, collards spring immediately to mind. My folks didn't go for traditional southern food, but you can't grow up in this part of the country without encountering certain dishes. I still remember my childhood best friend's mom cooking collards all day long on the stove. Her collards featured bacon grease and ham, of course.
Eating vegan in this part of the country has gotten a lot easier since I was a kid. Still, a lot of traditional southern cooking considers bacon a spice and cornbread made with lard a vegetable. We've come a long way, baby, but we have a long way to go.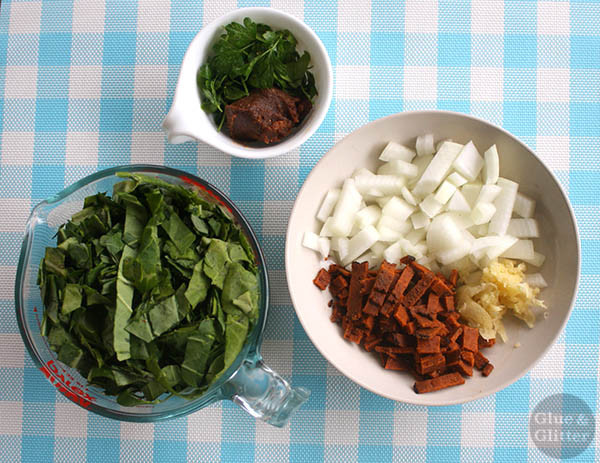 Instead of bacon grease, you fry up the onions and garlic for this recipe in plenty of olive oil. I don't always put bacon in my collards, but a good vegan bacon brings a rich smokiness to the dish that makes it taste much more authentic. If you can't find good vegan bacon, just leave it out. You can add 1/2 teaspoon of liquid smoke to the pot, if you like. Or not! This dish is versatile.
You can really use this recipe to make any sort of hardy, leafy green. Kale, mustard greens, or cabbage would all work well using these same cooking directions. Just keep an eye on things after you turn the heat to low – most greens won't need to cook as long as the collards to become nice and tender. Start checking other greens after an hour, and take another peek every 10-15 minutes.
Softer greens like spinach or Swiss chard won't work in this recipe. They cook down too quickly and too much.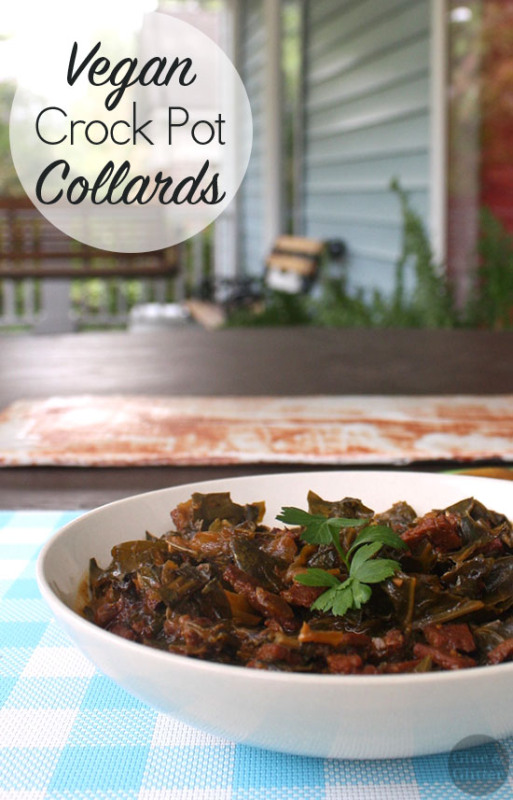 Crock Pot Collard Greens
Yield: 6 servings
Ingredients
2 tablespoons

olive oil

1 cup

sweet onion, chopped

4 cloves

garlic, minced

4 strips

vegan bacon, chopped (I used Sweet Earth Bacon, but your favorite vegan bacon will work just as well.)

4 cups chopped

collard greens (6-8 large leaves will do it.)

1 handful

of fresh parsley (about 1/4 cup chopped)

1/4 teaspoon

white pepper

1 tablespoon red

miso paste

1 cup

water
Method
In a large frying pan on medium-high heat, saute the onion, garlic, and bacon until the onion softens, about 6 minutes. Transfer to your crock pot.
Add the rest of the ingredients to the crock pot, and stir well. Use your spoon to break up that miso paste a bit. Cook on high for one hour, then give everything a good stir and turn the heat to low. Cook for two hours more.