The Ethical Girl's Guide to Being Vegan and Fabulous is a free guide for you ladies (and gents) looking to start a cruelty free life and look smoking hot while doing it.
I know many of you are just starting out with veganism, or maybe you are toying with the idea and not exactly sure where to start. I created The Ethical Girl's Guide to be a brief manual for those needing to know everything about vegan living without spending hours of research and trial and error.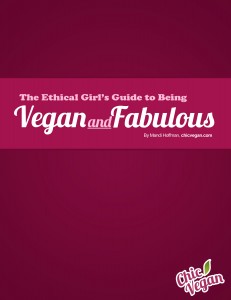 The Ethical Girl's Guide to Being Vegan and Fabulous is 42 pages overflowing with:
Vegan basics and the ideas behind the lifestyle.
Eating vegan, from recipes to nutritional needs to tips on dining out.
Vegan fashion, vintage shopping and an index of compassionate designers.
Vegan cosmetics, beauty from the inside out, and ingredients to watch out for.
Etiquette, compassionate choices and everyday activism.
Required reading list, tons of resources and much, MUCH more!
The best part about this comprehensive guide is that it is free! Sign up for our weekly newsletter The Sunday Spectacular, and your e-book will arrive directly to your inbox. Consider The Sunday Spectacular a continuation of The Ethical Girl's Guide – it delivers exclusive deals, the scoop on new cruelty-free products, news, recipes and other random surprises.
Sign up for The Sunday Spectacular and receive The Ethical Girl's Guide To Being Vegan and Fabulous right in your inbox.