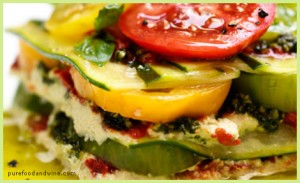 It is almost go-time for the 2010 Raw Food Adventure! Are you excited? I am! This is something that comes much needed after a handful of stressful months loaded with not so good foods. My body is actually craving delicious raw veggies like crazy lately! I hope that some of you wonderful ladies will consider doing this with me. I would love to hear your stories and for us to experience challenges together. Remember you can do any variation of this you want: maybe only 80% raw, maybe only for 2 weeks, maybe you just want to eat less processed foods – Whatever! Come join the party!
Overall Mission
For the month of August, I plan to eat a 100% raw diet for 30 days. I want to do this to cut out processed foods, caffeine, soy, wheat and sugar. I want to make every meal a mindful one. During this time I want to get more active by doing some kind of workout every day.  I also want to reduce stress by meditating every day, and adapting a more minimalist work regimen. I will be recapping my adventures every Friday here on the blog and hope that those of you  joining in will share your experiences as well!
Shopping List
My menu is going to be pretty basic for the first week, so I will just be buying a whole lot of produce, nuts and some oils. I will just be eating a lot of salads and drinking a lot of juice. Remember to only buy enough produce to last a week.
Raw nuts (cashews, almonds, walnuts, macadamia)
Fruits
Lots of veggies (including collards for wraps and an obscene amount of kale for juicing and eating.)
Dates
Oils (evoo, coconut, hemp, udos)
Preparation!!
I've got lots of prep to do this week! I'm going to try and dehydrate enough crackers (flax and some others) to last two weeks. I think that raw crackers and breads are important to eating raw because they are so nutrient dense, can be stored easily and if paired with a dip and some raw veggies, can make a whole meal. Of course raw crackers are by no means necessary, I just really enjoy them! If you don't have a dehydrator you can buy crackers at your local health food store, online or try some of these tricks.
Next I'm going to make some dips/spreads and a dressing. I typically use oil and vinegar with some spices as a salad dressing, but just in case I get bored of that I'll make another one to have on hand. Thrive has tons of great dressing recipes, my favorite is the Ginger Carrot Dressing. This creamed spinach dip looks yummy and you can never go wrong with the old standbys: Hummus and Guacamole. The reason why I make dips/spreads in advance is because they are delicious with vegetables, spread on crackers/breads, and also used as spreads on wraps or as a base for a sauce or dressing. It is always good to have some on hand!
Then I'm going to make some energy bars or "balls of goodness" as we like to call them around here since we prefer the spherical shape to the square.  These can be stored in the freezer for snack time bliss or a post workout pick-me-up. Again, Thrive has some great recipes for these. (I love this book so much because all of the recipes are insanely easy, taste good and each ingredient has a serious nutritional purpose. Most of the recipes in this book can be made raw or cooked depending on your preference. AND it is a great resource for vegan athletes.) If you don't pick up the book here is a great energy bar recipe. And if you are feeling naughty, here are some deliciously easy raw desserts you can make and freeze for future noms.
Finally, I'm going to chop up veggies and store them in the fridge. If they are all washed, chopped and ready to eat, "I'm too busy" is not a valid excuse!
Great online places for raw food inspiration
Choosingraw.com
welikeitraw.com
lovingraw.com
loveveggiesandyoga.com
rawfoodcrafting
rawfoods.com
goneraw.com
Meal Ideas
I was going to create a very specific meal plan  to follow each and every day. However, when I really thought about it I realized that all of the fun in eating raw is getting to be creative and adventurous with your food. Raw food is easy to mix and match, add to and take away from depending on your preferences. Some days you will be much more hungry than others, or be craving greens, or fruit. I think the most important part of this adventure is learning to listen to your body and what it needs and wants. We are all very different and you will want to nurture your own unique self.  That being said, I don't want to leave those of you considering this adventure, empty handed. So here are some great meal ideas.
Breakfast
– Shakes & Smoothies(made with water or coconut water)
Hemp seeds, berries, banana, cashews
Banana, cacao powder, cashew butter
Kale, mango, blueberry
banana, ginger, lemon juice, cayenne, blueberries
spinach, apple, banana
Smoothie Add-ons: Maca, cacao, Udo's oil, chia seeds
Smoothie FAQ
– Almond butter & bananas
– Flax crackers and almond butter
– Juice
Your options are really limitless here, but these are some great drinks to start with.
Lunch
– Salad.
Anything you please, thrown in a bowl with a dressing of your choice! Choosing Raw has some fancy salad recipes.
– Collard Wrap with spread, dressing and lots of veggies.
-Zuchini noodles
– Juice
– Crackers and dip with veggies
–Cucumber Dill Soup (soups can also be made in bulk and stored in the fridge!)
Dinner
– Raw Zucchini Alfredo with Basil and Cherry Tomatoes
– Juice
– Collard wraps (see above)
– Green Smoothie
– Huge  salad
Snacks
fruit, veggies, balls of goodness, crackers, nuts.
I will also be featuring some yummy raw recipes here on the blog and in the newsletter for the next month so there will be many more ideas to come! I will be starting on Saturday so be sure to connect on twitter and facebook and share your  experiences!
Delicious photo from Pure Food and Wine!