You can drink this spiced pumpkin cocktail hot or cold and serve it up with booze or without. So many options!
So, if Facebook is any indication, loving fall is now totally cliche. But you guys. I love fall! After the scorcher of a summer we had here in Atlanta, it feels good to pull on a cardigan in the morning. If loving fall is cliche, then call me predictable.
More fall cocktails: Roasted Apple Tom Collins, Grape Martinez, Figgy Ginger Fizz
We haven't totally transitioned into fall here in the dirty south, though. The mornings and evenings are chilly, but it's still iced tea weather by midday. This pumpkin chai is perfect for transitional weather, because you can serve it hot or cold.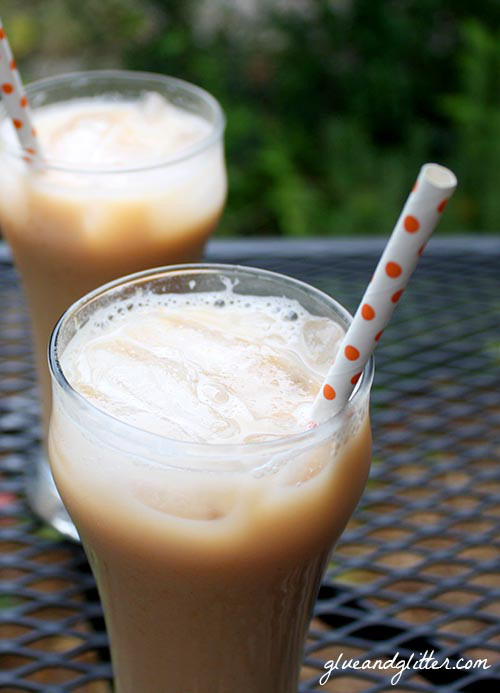 The secret to this recipe is choosing a good chai tea. I'm using Red Chai from Stash Tea, but if you have a favorite brand of chai, by all means go for it! I will say this, though: if you're planning to use booze, I'd look for a caffeine-free chai. Caffeine and alcohol is not a winning combination. The red chai that I'm using doesn't have caffeine, and there are lots of other yummy decaf chai options out there.
Spiked Pumpkin Chai
Yield: 3 hot cocktails or mocktails

Ingredients
1/3 cup

pumpkin puree (canned or homemade pumpkin puree are both A-OK!)

2-3 tablespoons

maple syrup (to taste – If you're not using rum, you can get away with 2 tablespoons easily.)

3 ounces

light rum (optional – if you skip the rum, add an extra 1/4 cup of milk)

2 cups

soy or almond milk

2 bags

good chai tea
Method
Combine all of your ingredients except for the tea bag on the stove. Turn the burner to medium heat, stirring to combine really well. Stir constantly, because you don't want this mixture to form a skin. Your mixture may not come to a simmer, and that's OK! You just want it nice and hot, so the tea will infuse well. Give it a few minutes, and you should be ready to add the tea bags.
Add the tea bags to your pan, and turn off the heat. You might want to use a clothespin or something to clip the strings from the bags to the sides of your pot, so they don't get lost. Step away for 10 minutes to let that tea steep like crazy.
Pull out your tea bags, and give them a good squeeze into the pot.
For a warm pumpkin cocktail: Turn the stove back on, and stir until everything is warmed back up. Pour into your mugs, and serve.
For an iced pumpkin cocktail: Give everything one more stir, then pour into glasses full of ice.