I don't think I'm alone when I say that the 50's  are my all time favorite era for fashion. It was a time when women really embraced being women. Some substantial effort  was put into looking beautiful and feminine.  Women could throw on a flirty dress, smear on some red lipstick and easily hoist themselves in sex symbol status. The style was simple, but incredibly flattering, comfortable and sexy. I love the 50's because it had a certain energy to it, people seemed to finally be enjoying life and making the best of times. Maybe its  just all the twirly skirts.
Clothing
Skirts galore! Women of the 50's embraced their femininity with flirty high-waisted skirts paired with blouses or cardigans.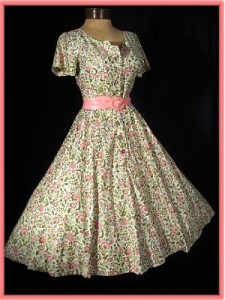 Shirtwaist dresses – This iconic 1950's dress was worn with a girdle and petticoat to really emphasis a women's curves!
*image from Blue Velvet Vintage -A lovely vintage shop.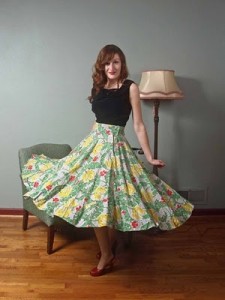 Circle skirts–  Or the "swing skirt" was a breezy item that could be paired with any type of blouse or cardigan for a feminine and easy outfit.
*image from Countess De Vintage – another great place to shop!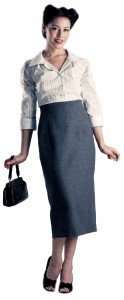 Pencil skirts – For those sexy and daring girls, pencil skirts were all the rage.
*image from ReVamp Vintage
Cardigans– These fitted, button up sweaters were perfect to transition dresses from day to night, and to cover up when appropriate.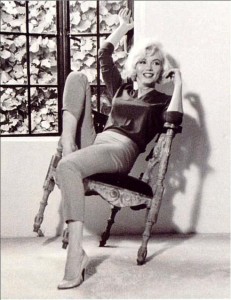 Cigarette pants – Those stylish women that dared to wear pants and look stylish at it, opted for the ultra-slim fit cigarette pants
Shoes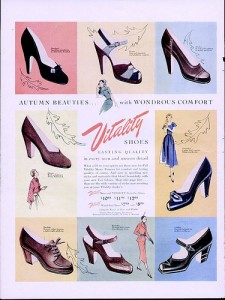 Mary Janes and saddle shoes were worn by younger girls and for casual daytime style, pointed or square toe heels were worn for a more glamorous style.
Hair
Women were open for more hair experimentation than they were in other eras. Most coifs were wavy or curly and sported short bangs, pompadour type styles or intricate up-dos. I think that 1950's hairstyles are the funnest but most challenging to recreate.
This adorable and simple up-do is super casual and cute.  What a gem of a hair tutorial!!

Makeup
Women of the 50's made  sure their skin was as smooth looking as possible. At this time Max Factor's "Pan-Cake" makeup was developed and widely used by women trying to achieve flawless skin. Eyes had liner that flourished out at the end creating a "cat- eye" effect. False lashes were a must-have. And of course, bright red lipstick reigned supreme.
Style Icons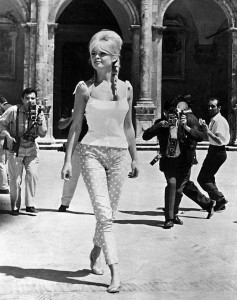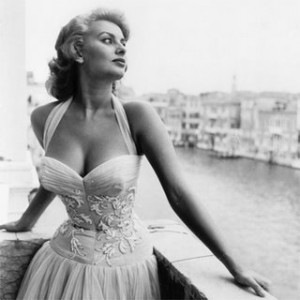 Marilyn Monroe -of course!