I have found it incredibly easy to eat raw this summer. My body craves sweet fruits and leafy greens. I wish it did that all year long!  And I mean, come on – when it is super, crazy freaking hot like it has been the past week,  nobody wants to cook. So why not rejoice in the miracle that is raw food?
I want to preface this recipe by saying – don't get scared by the ingredient list! People often get inundated by a long recipe because they think it will be hard or time consuming. This recipe took about 30 minutes for me to make, including washing the processor in between uses. Many of the same  items are listed for each recipe, and once you have everything together you literally just have to throw it in a blender and hit a button. Easy! You can also make the dressing, chorizo, and sour cream ahead of time and store them in the fridge.
I made raw nacho chips from Chef Russell James' mexican e-cookbook to go along with the salad. They were delish! If you have a dehydrator, I highly recommend them. If you don't – the salad tastes amazing and is VERY filling even without them.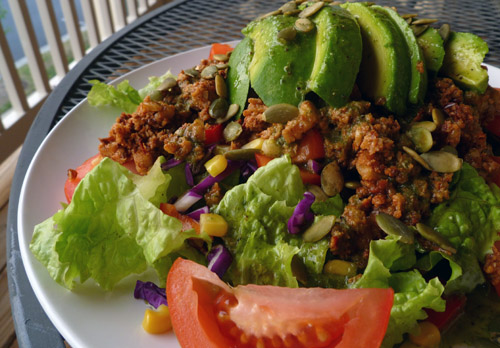 Raw Taco Salad with Cilantro Lime Dressing
Makes: 2 big salads or 4 side salads
For the salad:
1/2 a head of Red leaf lettuce, chopped
1 Red bell pepper, chopped
4 green onions, chopped
Pumpkin seeds
1/2 cup corn (I used frozen)
1 tomato, sliced into wedges or chopped
1 avocado, sliced
Cilantro Lime Dressing
I had a bunch of cilantro in the fridge, so I improvised a great cilantro-lime dressing. I used WAY too much oil (as I usually do), so the oil is cut in half for this recipe, which I think will do nicely. This recipe makes just enough for the two salads, so if you like an abundance of dressing, you should probably double it.
1 cup of cilantro
1/4 cup XV Olive Oil
1/4 cup lime juice
1/2 tsp salt
1 clove garlic -minced
Squirt of agave
-Put everything in a blender and blend away.
Walnut – Sunflower Seed Chorizo
2 cloves garlic – minced
1/4 cup diced yellow onion
1/4 cup sun-dried tomatoes
1 cup walnuts
1/2 cup sunflower seeds
1 tsp XV Olive Oil
2tsp lemon juice
1.5 tsp cumin
1Tbs chili powder
a sprinkle of cayenne (if you like it hot!)
– put everything in a food processor and pulse until it reaches a crumbly-but-still-juicy texture.
Cashew Sour Cream
You can actually make this sour cream the night before, or make a big batch of it to use on salads throughout the week. It makes a great condiment and can be used to add flavor to almost anything. If you put it in the fridge, it will firm up a bit and can be used as a spread or dip!
1 cup cashews
Juice of one small lemon
2Tbs Apple Cider Vinegar
1.5 cups water
1/2 tsp salt
– Blend everything together until creamy and smooth. You may need to add a little but of water to get it to your desired consistency.
Now just mix everything together (or assemble beautifully) and enjoy!