This recipe is mostly inspired by this great little food cart by my gym. I'm guilty of blowing almost every workout I have at this place, which is on my walk home. But who can resist!  They sell these magnificent little bowls of mix and match locally grown foods. Best part?  The cart is a big ladybug!  If you are in the PDX area, Lickity Split is located at NW Hoyt and 10th.
The best part about this dish is it's ease of construction. If you are a busy person you can spend a day making enough polenta, neatballs, and sauce to last a week or two. You can do this cheaply and easily, and have a quick and deeeeelicious lunch (or dinner) every day. Hooray!
Polenta
The base of this yummy dish is just simple polenta. Make sure it is served hot and still in a cereal type of consistency. You can cook this up any way you wish but my favorite way is the Quick Polenta rom Fat Free Vegan Kitchen that literally takes 10 minutes and is extra delicious.
Neatballs
You can use any vegan "meatball" recipe you wish but this recipe from SmarterFitter is truly spectacular. (Special thanks to @monicashaw for the suggestion!)
1 Tbsp olive oil
4 cloves garlic, minced
1 medium red onion, coarsely chopped
3 carrots, grated
1 cup walnuts,
450g firm (not silken) tofu, frozen, then thawed
2 tsp basil
1 tsp thyme
1 tsp oregano
juice from 1/4 lemon
150g firm silken tofu (about 1/2 box)
olive oil for greasing
salt and pepper

Saute the garlic, red onion and carrots in the olive oil until soft.While that's going, take the frozen tofu and squeeze out as much water as you can (I suggest tearing it into a few pieces and squeezing each piece with your hands over the sink. Don't worry if it crumbles apart – that is its destiny!)

In a food processes, blitz the walnuts until they are roughly ground.

Add the firm tofu, herbs, lemon juice and sauteed veggies. Blend until everything is about the size of breadcrumbs.

Now, with the food processor running, start adding the silken tofu a spoonful at a time. When it looks like things are coming together, stop, and try to make a test ball. If it all holds together well, you're ready to go. If not, add a little more silken tofu. Also, you may need to scrape the sides and bottom of your food processor as you go.

Form the mixture into balls (I like to make mine fairly small, about the diameter of a quarter) and place on a well oiled cookie sheet or roasting pan.

Bake at 350F/180C for about 15 minutes. Rotate the balls and return to the oven for another 15 minutes.

Makes about 25 neatballs. Per ball: 58 Calories; 3.3g Protein; 4.4g Total Fat; 2.3g Total Carbohydrates.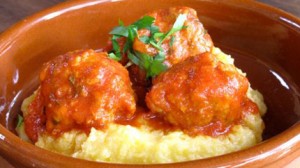 Sauce (That's gravy for you Italian folks)
You can totally use canned red sauce here.  If you prefer a homemade sauce, go for it!  If you want something truly unique, switch out the red sauce for a verde sauce. Or use both! (This is a good verde recipe.. just sub the chicken broth from some veg broth and you're all set!)
***Now just place the polenta on the bottom, neatballs in the middle, and sauce on top. Sprinkle some soy parm or nutritional yeast on top and prepare to be delighted.***
Top Image from SmarterFitter