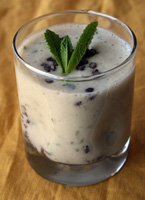 Whats better than a tasty vegan milkshake on a hot summer day? A RAW vegan milkshake! This recipe is so easy and delicious that you will want to make it everyday! This is also a great opportunity to try your hand at making some raw milk, which I always thought was daunting but turned out to be a piece of cake!
Serves: 4
Prep Time: 10 minutes
Delicious Factor: High
Ingredients:
2 cups soaked raw cashews (soaked for at least 2 hours)
3/4 cups maple syrup or agave nectar
1/4 t. fine sea salt
——————————–
1.5 cups homemade raw hemp milk, plus more to taste
1 T. fresh orange juice
Agave nectar, to taste
1/4 cup finely chopped fresh mint
1/2 cup raw cocoa nibs
Preparation:
1. In a blender, blend the nuts, agave and salt and process until smooth. Pour into a shallow dish and place in the freezer for 1 hour.
2. Return the chilled mixture to the blender, along with the 2 cups hemp milk and blend until smooth. Add agave nectar to taste and blend. Add more hemp milk if desired. Add the finely chopped mint, and pulse only until the mint is combined but is still in pieces. Stir in the cocoa nibs, portion into glasses, and chill for 30 minutes in the freezer before serving. Serve very cold, garnishing with cocoa nibs and fresh mint if desired.
Recipe adapted from Dairy Free Cooking