Self proclaimed "energy bars" usually don't do it for me. They taste like chalk, make me feel sick, and never give me energy. It seems like energy and protein bars are solely designed for meatheads on the go.
When I was recently sent some Pure Fit Energy Bars to try out, I was skeptical. The packaging had that run of the mill "fitness food" look to it. But when I turned the bar over to take a look at the ingredients, this little beauty caught my eye: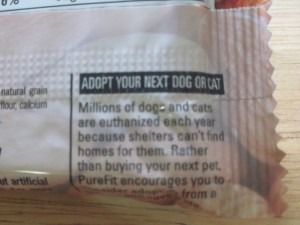 To me, that means this isn't just another company slapping "vegan" on the label and calling themselves compassionate. They are actively trying to spread the message that adopting animals is the way to go. +1 PureFit.

Regarding the actual bar itself – It was pretty darn delicious. I would describe them as a badass granola/energy bar hybrid.  My favorite was the chocolate brownie, for obvious reasons. They also come in Granola Crunch, Almond Crunch, Berry Almond Crunch and Peanut Butter Crunch.  If you don't feel like choosing you can get a sample kit of all the flavors. PureFit bars contain NO animal products, gluten, artificial sweeteners, or hydrogenated oils which puts them light years ahead of most energy bars on the market. But if you are sensitive to soy these bars are not for you – they are loaded with the stuff.
The best thing about these is – they actually gave me energy! About 20 minutes after eating these bad boys I was doing handstands in the living room and generally annoying Doodlebug to death.
Overall, I was terribly impressed with PureFit Energy Bars and would totally keep them in my purse for those days when finding a bite to eat is just not on the schedule, or when I need a bona fide pick-me-up without getting cracked out on coffee.
If you want to try out PureFit Energy Bars for yourself, you can get 25% off right now with coup code PROMO25