As I mature and become more in touch with my body I am starting to find that the colder months with their lack of sunshine and color can throw off my mood some days. I have to make a conscious effort to stay balanced—continuing to eat healthy, staying active, attending to my spiritual life, etc. So with the cold wind settling in and shortened days of sunshine, I couldn't think of a better time to try MaaDisha products.
MaaDisha (which translates to "Mother" and "Direction") infuses an Ayurveda focus into their body care products. MaaDisha explains, "Ayurveda is a 5,000 year-old ancient and holistic healing system. Stemming from Ayur, meaning "Life," and Veda, meaning "Knowledge," Ayurveda is currently a prevalent medical system used to prevent and treat illnesses by maintaining balance in the body and mind." After all, if we seek to find balance in our day-to-day activities and diets, why not consider extending that balance to your beauty regimen as well?
The lovely woman at MaaDisha that I spoke with explained, "Since our skin absorbs what we put on it, by using products with harsh chemicals and artificial ingredients, we're introducing chemicals that throw off the balance of our internal energies. We like to describe our products as "Ayurganic" made from ancient formulas, but perfected with pure, organic ingredients—hence the motto: "Ancient formula. Organically perfected.'"
I was sent two items to review: the Lavender Enriched Soap5 and Hairmask2. (There are many more items on the website store.)
The Lavender Enriched Soap5 is lightly and delicately fragranced; its scent is peaceful and calming. It does not leave any soapy residue nor strip the skin of moisture. With the lavender, coconut and essential oils, and pops of color from turmeric and orange peel, this was a lovely body bar. One of the ingredients is palm oil and I inquired about the sourcing of MaaDisha's palm oil. I was pleased to learn it is sourced under Fair Trade and sustainable palm oil.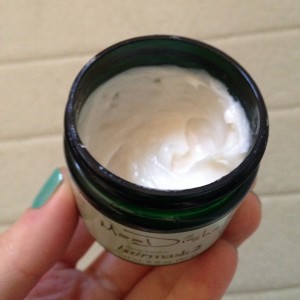 The Hairmask2 is an all-in-one deep conditioning treatment meant to leave hair repaired, stronger, thicker, shinier, and bouncier. The jar is for two treatments and I was worried that using such an amount might make my hair droopy, over-conditioned, and not "bouncier" at all, especially since I don't have particularly long hair. But hey, I was willing to give it a shot. After its use, I dried my hair and gave it a brush and looked into the mirror to see the results. Whoa! I couldn't believe how my hair looked—shiny, healthy—not at all over-conditioned. It felt soft to the touch; not greasy! And my hair continued to stay that way with each use—no build up occurred. And as Ayurveda teaches, continued use leads to deeper healing of hair and soul.
After several uses of these products, I'm a total believer. I appreciate the Ayurveda philosophy that is weaved into the mission which guides MaaDisha to create products that heal and contribute to one's overall health. I love that the products are vegan, cruelty-free, chemical-free, and use many organic components.
Be sure to check out MaaDisha products this holiday season—either to help you feel beautiful and balanced throughout the holiday hustle and bustle, or as lovely presents/stocking stuffers for someone you'd like to gift with a little holistic pampering.