Let's face it: there's something about wearing a really cute pair of panties. Even if you're not showing them to anyone, simply knowing that you look nice underneath your clothes gives your mood that extra boost. Pretty undies are an everyday luxury – one that no Chic Vegan should deny herself. Eco-conscious as we are, this month we're crushing on Arabel Lingerie, a UK brand that delivers handmade vegan-friendly luxury lingerie and bespoke corsetry.
The lady behind the pretty and playful pieces, Sarah Lister, sent me a lovely pair of red "English Rose knickers" (British for panties!) and a sexy "Sapphire garter belt" to try on.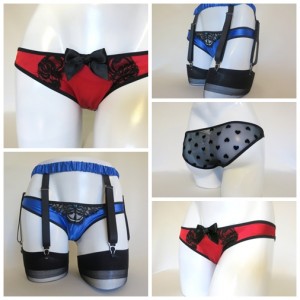 I wore the red pair on New Year's Eve, as my boyfriend is Italian and in Italy it is often said that red underwear on the first night of the new year brings luck! I'll keep you posted on the luck part, but the lingerie sure was lovely. The feel of the fabric is very smooth and satiny, with beautiful lace insets and a sheer, peek-a-boo back. The panties were comfier than most lacy things I've worn in my day and fit perfectly (I sent Sarah my measurements – if you enter yours on her Etsy shop or website, the sizing is very precise), which as we all know is not always the case with online shopping!
As for the garter belt, I mostly chose it out of curiosity – despite my experience working in a lingerie shop, I had never actually used one before. The sapphire blue shade caught my eye as it's such a subtly seductive color for lingerie. Blue is an interesting alternative to innocent white or the blunt sexiness of red. It was also surprisingly comfortable – am I the only one who thinks garter belts sometimes look a bit like torture devices? This one didn't, and it didn't feel like one either.
The clasps lay flat against the skin and the straps are soft and un-itchy (is that a word?) thanks to the plush underside. Putting it on, I wondered if my stockings would really stay up with this thing – what if one of the closures pops? Luckily, Arabel garter belts have six adjustable suspender straps rather than the usual four, which keep stockings sitting pretty and help avoid all-but-sexy wardrobe malfunctions.
All in all, I would definitely recommend Arabel Lingerie to eco-savvy shoppers who want to feel comfortable and look nice in unique, handmade undies – a Valentine's Day look, perhaps? Speaking of V-Day, if you're a guy dating an eco-vegan lady and clueless about a good gift for February 14th, take a look at arabel.co.uk and etsy.com/shop/ArabelLingerie – you might find something that both you and your girl will love!
var addthis_config = {"data_track_clickback":false,"data_track_addressbar":false,"data_track_textcopy":false,"ui_atversion":"300"}; var addthis_product = 'wpp-3.5.9';