I have returned from the eternally cloudy city of Portland with tales of vegan treats, ethical garb, and eco-tastic living . Easily the most progressive city I have ever visited, Portland has conscientious surprises around every corner. Eateries provide real dishes and silverware that can be returned to a bus pan when you are through. They have the most amazing (bio-fueled) public transit system which makes cars within city limits virtually obsolete. Every coffee shop and restaurant has soy milk and even rice milk available for ideal caffenations.  There are vintage shops on every corner,  filled to the brim with unique and fashionable finds. Trendy little shops are filled with upcycled clothing and jewelry made by local artisans.  The people of Portland ride bikes, read books and dream of how they can make the world a better place – then they do it!
The Food
Portland is definitely a town for foodies, vegan or otherwise. You would have to try really hard to find a chain restaurant here. Small local eateries reign supreme and they take tremendous pride in their food, service and ambiance. During our entire 7 day stay we did not have one bad dining experience.  Another thing Portland loves is it's herbivores, and always makes sure they have an option. Almost all menus have designated "vegetarian" and "vegan" sections and the servers know exactly what a vegan is and what their diet entails.  On our first day we went to The India House for lunch only to joyfully discover all of their vegetarian dishes were vegan! No ghee!  The Persian House a few feet down the road had an all you can eat Middle Eastern vegan buffet for $8.99. Can you say heaven?
Voodoo Donut -The magic is in the hole! This place is open 24 hours and usually has a good sized line. Their donuts are scrumptious and have delightful names like the "cock-n-balls" and the "gay bar" (covered with fruity loops). Not all of their treats are vegan but they always have a good selection.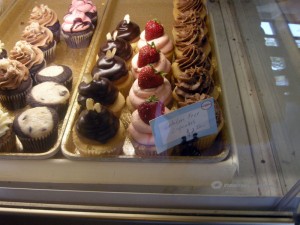 Sweetpea Bakery – Located in the VEGAN MINI MALL, Sweetpea Bakery serves up the most delicious veg confections I have ever had. We happily munched on slices of the Chocolate Decadence and Oatmeal Spice cakes. I need to know the magical secret behind the icing. Oh, and try the Happy Bowls, they're delicious.
Gravy – Once we saw the line out the door on a Monday morning we knew this place was awesome. Not completely veg but they have plenty of options including a create-your-own tofu scramble. For the omnivores in your life: The french toast is supposedly heavenly.
Food Carts – Portland is crawling with food carts. Most have vegan options.  Some are all vegan all the time. The portions are ginormous and the prices are cheap. You can learn more about the food cart scene at foodcartsportland.com
Ruby Dragon – My favorite, favorite, favorite food cart in Portland. All vegan, organic and local. The quinoa pancakes are heaven.
Blossoming Lotus – Organic. Local. Vegan. Sometimes raw. Always amazing. After finishing up a yoga session at the connected studio, head over for some truly nutritious and unique food.
Food Fight! – Also located in the vegan mini mall, Food Fight! is a small all vegan grocery store, jam packed with all you could possibly need and more.
To learn more about the vegan foodie scene in Portland, check out VegPortland.com.
The Three R's

Portlanders don't needlessly throw around buzz words like "green" and "eco" they just embrace the theory behind those words and fold it into their lives. They know that little things matter and everyone does their part to contribute. The concept of reduce, reuse, recycle is their mantra and they thrive on owning less, buying used, and reusing old unwanted things in innovative ways.
Vintage – Dear lord, was I in vintage heaven. Vintage and boutiques peddling upcycled duds were plentiful around the trendy parts of the city. They actually outnumbered the shops carrying new clothing. Anything you could possibly need for yourself or your home you can find used somewhere. Oh hey look, there is even a website about it: shopvintageportland.com
Books –  Did you know that Portland is home to the largest independent bookstore in the world? Powell's Books specializes in used, and rare books and is a bibliophile's dirty dream. To cover the whole store you literally need days. The city also houses many other thriving independent used bookstores that are nestled into every nook and cranny.
Businesses – Corporations or non-local chains are shunned in Portland. EVERYTHING is local. Small businesses thrive and do their best to support the community. They build their businesses around the existing building structures instead of renovating and wasting resources. The result is a truly unique and creative work or store area. Eateries do their best to serve local food with plenty of veg options and they try to create as little waste as possible by dissing disposable containers. Shops rarely offer a bag, and if they do it is probably made from recycled paper.
Transit – No car is needed here! Portland's TriMet transit system is one bio-fueled hunk of convenience. Most max, bus or trolley lines run every 15 minutes and can take you virtually anywhere in the city. It is hella cheap too, at a mere $4 a day! Bikes are also king here. You will find bike parking everywhere within the city and peddlers even have their own lane. Those that do drive cars are incredibly respectful to all pedestrians that may cross their path.
All in all my trip to Portland was filled with beauty and was a relaxing retreat into a world where people really do care about themselves, others, and the world around them. I hope to return very soon!
To learn more about what I truly love about the PEOPLE of Portland check out my other blog.
*By the way, I forgot my camera and had to use a disposable. (embarrassing!) More pictures are to come!