I confess, I haven't been this obsessed with a pair of shoes since the pair of blue sparkly jellies I had when I was five. I slept in them and wore them in the pool. Seriously.
The first time I stumbled upon Mohops, I was amazed. Why hasn't anyone ever thought of this? These babies can can be worn in infinite ways, and easily carry you through spring and summer without a need for another pair of shoes. All for a very fair price and the ease of knowing you are consuming less resources.

Mohop's soles are made from your choice of cherry, maple, or walnut wood, sustainably grown in Pennsylvania and Missouri. They are handmade in Chicago by the lovely Miss Annie Mohaupt, an ex-architect and current vegan. Ribbons can be strung through the elastic bands on the side of the soles to create countless styles that are only limited by your imagination. Rest assured that your feet will always look unique and beautiful. Talk about footwear you can be proud of.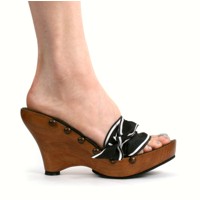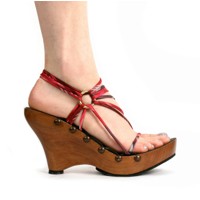 Unfortunately, Mohops are in high demand and there is currently up to a two month wait. If you hate waiting, you can try your luck at the Mohop Etsy shop and see if they happen to have the size and style you crave!

Mohop.com