My food adventures this past week were slightly more exciting than the week before. I managed to create my own recipe and also make breakfast! Hooray! I also managed to eat out a lot. Meh.
It is almost time to start planning the Thanksgiving menu. I haven't made Thanksgiving dinner in almost 3 years and this year I'm planning an all out vegan smorgasbord! Details to come.
I finally got my new digi camera, so my photos this week should look slightly more appetizing. I'm in the process of figuring out how to take nicer photos. I seem to be way behind that compared to the rest of the foodie blogosphere.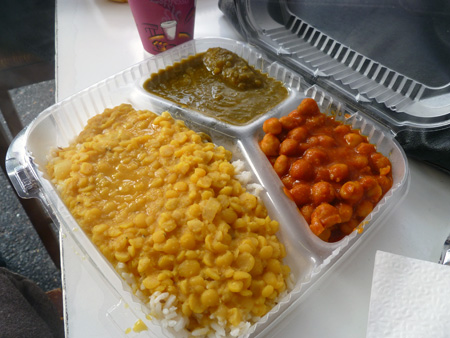 Last Tuesday I decided to take a break from the typical Big Ass Salad lunch and hit up the Indian food cart down the street from my apartment. You get 3 curries, rice, naan and a chai (I gave mine to doodles, it had milk in it).  I frequent this food cart, so the owner knows to give me only vegan curries and leave the cream based ones out. One thing I love about Portland: I can go anywhere at any time and ask anyone if a certain dish is vegan, and they know exactly what I'm talking about and give me a clear answer! None of that "What's a vegan?" or "Let me check with the kitchen" nonsense.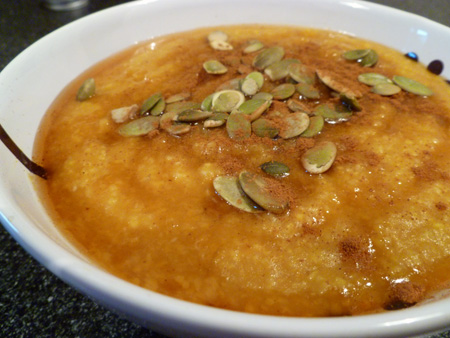 Saturday morning I made Pumpkin Polenta from Gluten Free Goddess. It is so easy to make! It was done in about 10 minutes and I made enough to last a few days. Interestingly enough this dish can be made sweet or savory – but I chose to make mine sweet with some agave and cinnamon.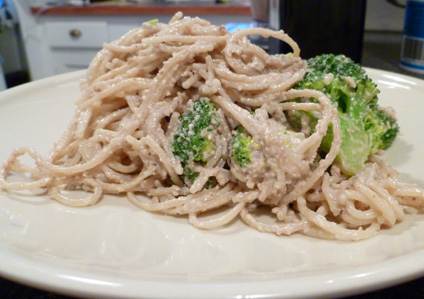 Yesterday I got crafty and made an interesting pesto-alfredo-ish sauce with random things I had in my kitchen. I used walnuts, sunflower seeds, EVOO, nutritional yeast,  a little bit of Tofutti sour cream, salt, pepper, garlic, and onion powder. I blended everything real quick until it made a pesto-like consistency then added it to some brown rice pasta and broccoli. So good and also really quick to make! I don't have the exact measurements for a recipe but I can recreate it if needed.
MoFos I Love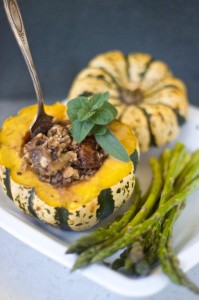 Apple Butter Laced Stuffed Squash from Manifest Vegan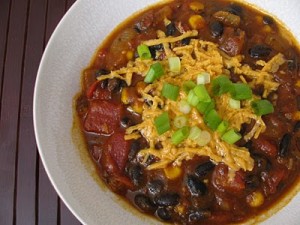 Pumpkin Black Bean Chili from The Ordinary Vegetarian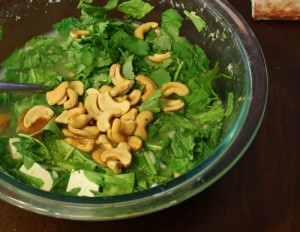 Faux Pho from Glue and Glitter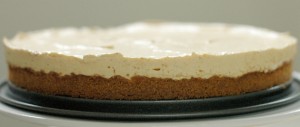 Easy Refrigerator Pumpkin Cheesecake from C'est La Vegan
var addthis_config = {"data_track_clickback":false,"data_track_addressbar":false,"data_track_textcopy":false,"ui_atversion":"300"}; var addthis_product = 'wpp-3.5.9';