The past few years I have spent Thanksgiving with Doodlebug's family and his mom graciously prepared Tofurky and other treats for me. However, this year we decided to stay at home and enjoy the Holidays. This means (eek!) I have to cook.
When planning the menu, I took a few things into consideration:
I hate my kitchen. It is small and awkward. My stove was made for gnomes and my sink is like a fountain for the floor.
I'm only cooking for two people. Granted, two people that typically eat for five.
I want to make food that stores nice and can be reheated for a few days after.
Since I'm making so many different things, I don't want to have to deal with complicated ingredients or time consuming preparation.
The plan is to make the soup, cranberry sauce and pie the night before and everything else on Thanksgiving day. This should result in minimal stress and a nice early dinner!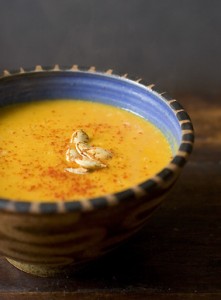 Thai Spiced Pumpkin Soup
A creamy, unique soup to get this party started right.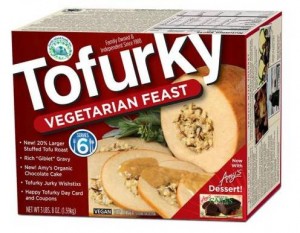 A Tofurky Feast
Staying true to my genuinely lazy roots, the main course will be the traditional vegetarian centerpiece: a Tofurky. I am normally not a fan of fake meats, but  to be quite honest – I love Tofurky. I think it is delicious and the stuffing is to die for. The gravy…superb. I love how easy it is to cook. I love still feeling like I'm having a traditional meal, even though it is anything but.  I love the fact that it is made from organic, non-GMO soybeans. This year Tofurky has really outdone itself by creating a new kind of Vegetarian Feast that just happens to be light years better than the feast of previous years. Tofurky is now 20% bigger, so you can feed more of the family without having to buy two. It also comes with an organic chocolate cake from Amy's! Hooray for easy dessert! If you are thinking of going with Tofurky this year, check out this list of recipes using your leftovers.
Chunky Cranberry Sauce
I typically buy my cranberry sauce, but this year I'm going to make it real and fresh!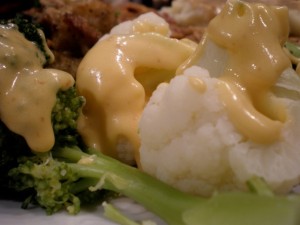 Broccoli with Cheesy Sauce
Cheesy sauce made from Daiya!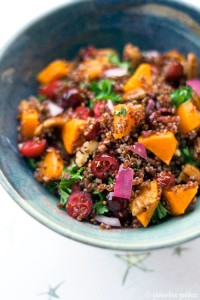 Red Quinoa with Butternut Squash, Cranberries and Pecans
Bright, beautiful and easy to make!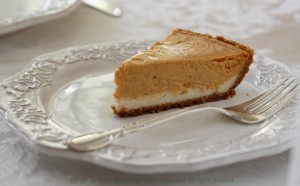 Double Layer Pumpkin Cheesecake
I've made this about 3 times and I can't get enough of it. So good!
var addthis_config = {"data_track_clickback":false,"data_track_addressbar":false,"data_track_textcopy":false,"ui_atversion":"300"}; var addthis_product = 'wpp-3.5.9';