I first made these delicious peppers for a New Year's Eve party and they were a huge hit! Featuring a meaty-tasting seitan and hearty brown rice stuffing, these beautiful bells satiate omnivores and vegans alike. Ready for the oven in under 20 minutes, these six-ingredient wonders are equally ideal for a holiday party or weeknight supper.

Stuffed Green Bell Peppers
Makes 6 servings / Ease Factor 2
Ingredients
6 medium green bell peppers
1 jar (about 28 ounces) vegan marinara sauce
2 teaspoons extra-virgin olive oil (optional)
2 packages (16 ounces) Italian flavored crumbled or ground seitan (see note)
2 cups cooked and cooled long-grain brown rice (see note)
2 teaspoons all-purpose seasoning blend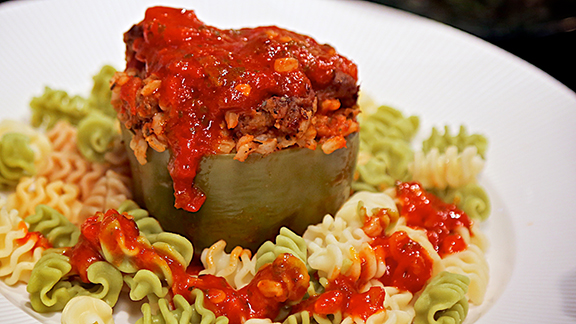 Preparation
Preheat the oven to 400 degrees F. Slice about one inch off the top of each pepper. Seed the peppers.
Spread 1 ½ cups of the marinara sauce and the 2 teaspoons of olive oil (optional) evenly over the bottom of a casserole that's large and deep enough to hold all the peppers snugly so they remain upright during baking.
Put the seitan, brown rice and all-purpose seasoning in a large bowl and stir well until combined. Stir in 2⁄3 cup marinara sauce and mix to combine. Spoon one-sixth of the seitan mixture into each pepper, mounding it, if necessary. Spoon 2 heaping teaspoons of the marinara sauce over each pepper. Carefully position the peppers in the casserole so they will remain upright while baking.
Cover and bake for 50 to 60 minutes, or until the sauce is bubbly and the peppers are tender but not mushy. Let cool for 7 to 10 minutes before serving.
Serve the peppers with tricolore pasta on the side and topped with some of the sauce that has accumulated at the bottom of the casserole. Put the remaining sauce in a gravy boat or small bowl to pass around at the table.
Chef's Notes
You may use unflavored, ground seitan in place of the Italian flavored variety. If using unflavored seitan, add an additional heaping teaspoon of all-purpose seasoning or Italian seasoning blend to the filling mixture before stuffing the peppers.
You may pre-cook the rice up to 48 hours ahead of making this recipe. Store it tightly covered in the refrigerator until use.
Amount per serving, based on 6 servings: 307 Calories; 6g Fat; 0g Saturated fat; 24g Protein; 868mg Sodium; 40g Total Carbohydrate; 2g Sugars; 2g Fiber
Recipe from Laura Theodore's Vegan-Ease: An Easy Guide to Enjoying a Plant-Based Diet © Laura Theodore (Jazzy Vegetarian, LLC 2015), reprinted by permission. Photo by David Kaplan.