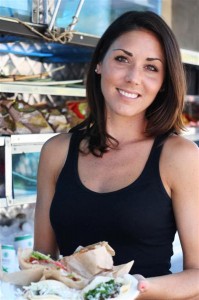 I am super psyched to introduce you to Stephanie Morgan, the founder of Seabird's vegan food truck.  When I contacted Stephanie to request this interview she responded right away and was so gracious with her time.  I am a fan for life!
If you ever have the opportunity to visit the truck you will not be disappointed.  My first visit to the  Seabirds truck was last year and Stephanie took my order at the window (Click HERE to read my post about it).  Who knew that we would be reconnecting via the interview a year later…I love how the world works!
There are a lot of exciting things happening in Stephanie's life right now and it was so much fun getting the scoop directly from her.  I look forward to watching her vegan train "truck" along full speed ahead.
CV – What motivated you to become vegan and was it an overnight switch or more gradual shift? 
SM – It started from reading the side of a box of Wheat Thins and wondering what all those crazy sounding ingredients were. I always thought Wheat Thins were a healthy snack but it turns out they're not…but it got the wheels turning so I went down to the local book store and bought a bunch of books about nutrition, politics of food, health etc., and was absolutely shocked to learn about the food systems we had in place in this country and especially how animals are raised and treated, during life and death.  I didn't intend to turn vegan overnight, but that's pretty much what happened -I just couldn't go back to meat and dairy knowing what I did, and I felt so great after changing my diet that it really sealed the deal for me.

CV – Tell me a little bit about Seabirds and how you dreamed-up the concept.
SM – I was actually living in Sacramento for a very short period of time and would frequent a local taco truck. I'd talk with the couple that owned the truck and they would make me these really great veggie burritos off the menu. This made me start to think how awesome it would be if there was an all vegan food truck that served great tacos and burritos and other vegan meals. I guess I just wanted it so bad that I had to create it.
CV – Has cooking always been a passion of yours?
SM – Not really. I was pretty involved in sports growing up so I never had time to experiment in the kitchen. In college I literally made a burrito for every meal. So it wasn't until after college when I turned vegan that I really embraced it and started cooking out of necessity. I love a challenge so trying to convert traditional meals to vegan was a fun and rewarding pastime for me.
CV – I just learned that you created an eCookbook!  Can you tell us a little bit about it?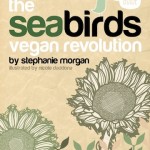 SM – Sure, it's written by myself and illustrated by Nicole Daddona (aka baby bird). Its a collection of about 30 recipes, all of which we have served from the truck. It has 4 parts: sauces, sides, salads and gluten free dishes. The dishes are inspired by the amazing local & organic produce we have found in Orange County and the recipes are simple enough for the home cook to nail. It's available on our website and is $15 (Click HERE to purchase). It should be available in the iTunes store shortly.
SM – In one word: Madness! The first day we arrived our producer told us it would be the hardest thing we ever did. We laughed at the moment, but he was right! It was very stressful for me because I felt responsible for our successes & failures being the owner and knowing all the ins and outs of our products, truck operations, etc. But also it was lots of fun traveling, meeting new people, sharing an incredible experience with new friends, and introducing people to vegan food.
CV – A little birdie told me that you are looking into opening a brick and mortar restaurant.  Is there any truth to the rumor?  I seriously hope so!
SM – I hope so too! Orange County needs more veggie options and I hope to help out in that area soon.
CV – Walk me through a day in your life.
SM – I don't think I've had two identical days since I started this business, but these are the things I do on a regular basis: answer emails, book events, place orders with vendors, pick out produce at the farm, go to restaurant depot, prep on the truck, record recipes, schedule the birds, answer phone calls, go to meetings, get people the paperwork they need, write checks, hang with customers, fix things that are broken, clean, run errands, dream up new recipes, check inventory, make lists, find new locations, tweet, Facebook, email, email, email, repeat.
CV – What do you typically eat in the span of a day and are you a snacker?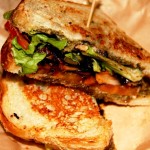 SM – I don't have much time for snacking but I do love me some snack food. My breakfast is typically green tea and a smoothie loaded with fruit, hemp milk, chia seeds, protein powder, green juice powder & coconut shreds. For lunch I'll usually eat from the truck- salad, veggie side and our rice dish.  Dinner is usually something easy. Right now I am a bit obsessed with making tacos so I'll usually have tempeh and Portobello marinating in the fridge and top it with sautéed kale, onions, avocado, vegan cheese, salsa, sour cream- all the good stuff!
CV – What is your favorite vegan indulgence?
SM – Too many! I really love coconut ice cream. Also, Rice Dream makes these vegan ice cream bars coated in chocolate and peanuts!
CV – When people learn that you are vegan, what is the #1 question they ask and what is your response?
SM – Well most people ask what I eat and where I get my protein. I wrote a blog about it on the Seabirds truck website to answer the question (Click HERE to read the blog). A lot of people still don't know what vegan means so Ill answer that question first.
CV – What vegan product could you not live without?
SM – There are really so many great vegan products today its hard to choose but it would have to be a milk substitute – I rotate through rice, almond and hemp.
CV – In your wildest dreams what will your life look like in 5 years?
SM – I'd really love to spend some time in Italy so if I could spend my mornings shopping for fresh produce and my days exploring the Italian coast and my nights cooking I think I'd be a very happy bird.