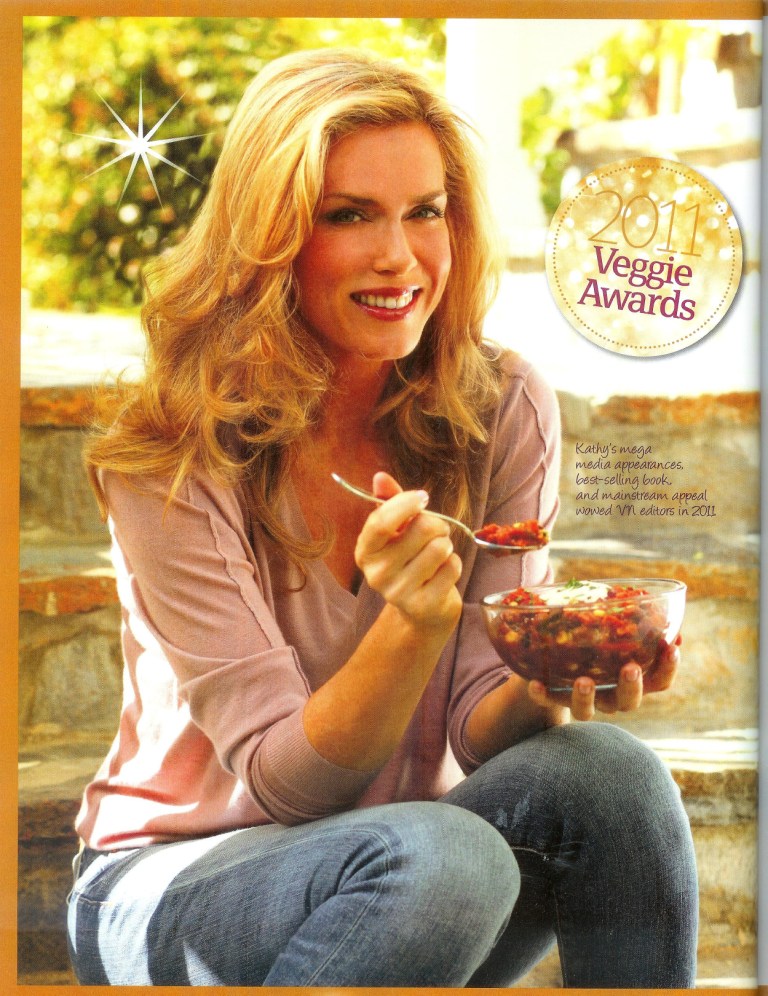 Kathy Freston is one of my personal heroes.  Simply put, she makes the world a better place and has dedicated her life to teaching people about veganism, loving themselves, and showing animals the respect and adoration they deserve.  I recently posted a review of her new book The Lean on Veggie Grettie and a reader commented…
"Kathy Freston is so great in her approach- not dogmatic at all! So helpful for those who are reluctant and if one just needs a bit of a nudge."
I couldn't agree more.  I enjoyed learning more about Kathy and know you will too…
CHIC VEGAN – ChicVegan readers love to learn about what motivated others to become vegan.  What was your motivation and was it an overnight switch or more gradual shift?
KATHY FRESTON – I was playing with my dog one day and thinking how much I love animals, and a little voice inside of me asked, "Then why are you eating them?".   Gulp.  Good question.  Because I was SO used to eating all things meat and dairy, I didn't know how to go about changing, so I just set my intention to become someone who didn't eat animals or anything from them, and then leaned in to the path of finding delicious plant-based fare.
CV – Tell me a little bit about

The Lean

and what inspired you to write it.
KF – I kept seeing really lovely people struggle mightily with their weight, and it broke my heart.  People shouldn't have to suffer like they do.  They should be able to enjoy their lives AND enjoy good health and esteem.  So I wanted to come up with a plan that would make weight loss easy and do-able, something effective and science based.
The Lean is about getting lean in the body, but it's also about "leaning in" to the process of losing weight and getting healthy.  You simply set your intention to go in the direction of health, and you take small, interconnected steps in that direction.  You add one new (simple!) habit a day, and you maintain that habit throughout the 30 days.  You "crowd out" the old, unhealthy stuff with delicious, fiber rich foods which leave you no room to overeat!  A momentum builds, and before you know it, your body is changing.
CV – Your wellness philosophy resonates so strongly with me and I truly appreciate how practical and applicable the steps in the book are to real life.  Do you think that is the key to the program's success?
KF – I'm so glad we are on the same page!  And yes, I think when a plan is approachable, you aren't afraid or resistant to trying it.  So no tough rules or overnight changes, no hard core discipline that makes you hate your dietary changes.  If you are miserable with too many restrictions on a diet, you certainly aren't going to keep it up.  Lifestyle changes are better made gradually and with ease; that way you stick with them!
CV – You have written so many inspirational books.  Do you have a favorite?
KF – Thank you very much!  My books are like my kids; I pour so much into them.  And each of them has a distinct path and message, so it's hard for me to pick a favorite!  When a book connects, my heart soars.
CV – Walk me through a day in your life.
KF – I wake up right as the very first light appears in the sky (although I wake up in total dark in the winter time) and go to the kitchen for tea.  I have 2 cups of yerba mate while reading 5 papers on my ipad.  Then I have breakfast, followed by a cup of coffee.  I then take Trixie (the mutt of my life) on a hike and have a protein smoothie upon my return.  After a shower, I meditate for 20 minutes.  The rest of the day is spent at the computer (unless I have a meeting, or some other special project like a tv show), and I eat lunch when I'm hungry – usually outside on the porch where I daydream while eating.  I have a green juice midafternoon and wrap things up by 5 30.  I really love going out for dinner (and sometimes a martini!) because being home alone all day makes me crave company!  I'm usually in bed and asleep by 10 30… it's a happy existence!
CV – What do you typically eat in the span of a day and are you a snacker?
KF – On a typical day, I'll start off with brown rice topped with chopped almonds, dates, and soy milk.  Lunch might be a black bean burrito, or a hearty lentil soup.  For dinner, either a pasta with veggie sausage or I'll keep it simple and have spaghetti squash with chickpeas, artichokes and sundried tomatoes.  I make sure to have salad at least once a day, and a few different veggies throughout the day.  I always have an apple, some nuts, and a protein smoothie as snacks (as per The Lean).
CV – What is your favorite vegan indulgence?
KF – I LOVE pizza (who doesn't?!), so I make my own with store bought whole grain crust, pizza sauce, vegan pepperoni and some mushrooms… delish!
CV – When people learn that you are vegan, what is the #1 question they ask and what is your response?
KF – "Really, that must be hard, right?"  And I say that the benefits seriously outweigh any of the challenges…after all, I get to stay slim and healthy, have tons of energy, be a great steward to the environment, and be nice to the critters!  I tell them that I just "leaned in" to eating more vegan food, and eventually it became easy and natural.
CV – What vegan product could you not live without?
KF – Can't live without Silk Soy Creamer.  I use it in my tea and coffee (it's nice and thick) and sometimes over blueberries or rice and raisins as a dessert!
CV – In your wildest dreams what will your life look like in 5 years?
KF – Well, that's fun to think about!  How about this:  every mainstream restaurant I go into has at least half their menu choices with no animal products at all?!  I would be SO HAPPY to see so much progress, and I think things are moving in that direction!
Click HERE to read Veggie Grettie's review of The Lean.