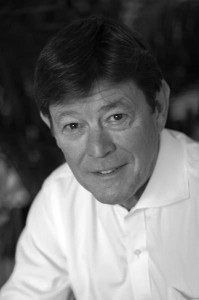 J. Morris Hicks wrote the groundbreaking book, Healthy Eating Healthy World.  After a career in business as a management consultant and senior corporate executive, Jim Hicks became curious about the "optimal diet" for humans in 2002. Having always been a "big picture" guy in business, he began a study of what we eat from a global perspective—discovering many startling issues and opportunities along the way. Leveraging his expertise in making complex things simple, he documented his findings in his powerful book, Healthy Eating, Healthy World, published by BenBella Books in October of 2011 (Click HERE to read my review of his book).
Executive recruiter by day, Jim spent his spare time learning all about food since 2002. After studying plant-based nutrition, reading hundreds of books and getting to know many of the top physicians in the field, he began to document his findings and conclusions on his Harmony Earth website in 2006. Then, after writing his book in 2010, he launched his blog site at HealthyEatingHealthyWorld.com in February of 2011.
It was a pleasure to interview J. Morris Hicks.  He was so approachable and made himself very available.  It is clear that Mr. Hicks is extremely passionate about the plant-based lifestyle and spreading the word.
CV – WHAT MOTIVATED YOU TO BECOME VEGAN AND WAS IT AN OVERNIGHT SWITCH OR MORE GRADUAL SHIFT?
In late 2002, I became interested in learning more about the optimal diet for humans, and after reading 30 or 40 books on the topic, quickly moved in the direction of a whole foods, plant-based diet. Then in May of 2003, I read two books; one by John Robbins and the other by Howard Lyman. In those books, I learned about the many non-human health reasons for eating plant-based—and that's when I had my blinding flash of the obvious and concluded, "We're eating the wrong food." For the detailed version of all of this, take a look at the About Us tab on my website.
CV – TELL ME ABOUT YOUR BOOK, HEALTHY EATING HEALTHY WORLD, AND WHAT INSPIRED YOU TO WRITE IT.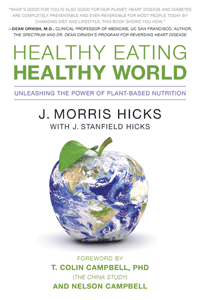 After reading hundreds of books since 2002, I realized that there was no single book that succinctly explained the "big picture" about what we eat and how it relates to the promotion of health hope and harmony on planet Earth. You see, we're the only species in history that doesn't eat what Nature intended for us to eat, and I wanted to explain in simple, everyday terms, the vast consequences of our "unnatural" food choices, beginning with our own health. I really felt like there was a need for a "big picture" book on this topic—one aimed at the mainstream 95% who are not vegan or vegetarian. I wanted a fact-filled, entertaining read that would be ideal for vegans to give to their meat-ending friends and family.
CV – YOUR BOOK COVERS SUCH A WIDE BREADTH OF TOPICS, YET THEY ARE SO STRONGLY INTERRELATED.  HOW LONG DID IT TAKE YOU TO PUT ALL OF THE PIECES OF THE PUZZLE TOGETHER?
I have been pulling the information together since 2002 and started presenting it to the public on my Harmony Earth website in 2006. After getting a contract with BenBella Books in April of 2010, it took me about six months to complete the book.
CV – WHAT PIECE OF INFORMATION DID YOU COME ACROSS THAT SURPRISED YOU THE MOST WHILE WRITING THE BOOK?
The overwhelming preponderance of evidence supporting a whole foods, plant-based diet for humans—coupled with the almost unanimous belief within that Western world that we truly need to eat animal protein to be healthy.
CV – ARE YOU OPTIMISTIC THAT WE AS A WORLD POPULATION WILL BE ABLE TO SOLVE THE ENVIRONMENTAL AND NUTRITIONAL CRISIS' WE FACE?
My feeling is that in the long run, a return to the natural diet for our species (whole plants) is inevitable. The question is whether we'll make that transition voluntarily or if we'll have to be forced. It will probably be a little of both. I'm optimistic that millions of people will start moving in the right direction once they are provided with the necessary information. Unfortunately, I think that the masses will have to be forced to change — either by the cost or simply to avoid starvation in a world where the population grows by 200,000 people per day and we're losing a chunk of arable land about the size of South Carolina every year.
CV – PLEASE EXPLAIN WHAT 4LEAF FOR LIFE IS.
We developed the 4Leaf Program to help people understand that healthy eating should be focused on what we ARE eating; not on what we're avoiding. So it's a real simple concept of maximizing the percent of one's daily calories from whole plants, still in Nature's package. Lately, I have realized that the 4Leaf for Life slogan represents a mentality of being aware of what we're eating as we always strive to eat mostly plants. The 4Leaf level begins at 80%, an arbitrary number but one that delivers over 15 times more whole plant calories than the typical Western diet.
CV – WALK ME THROUGH A DAY IN YOUR LIFE.
I wake up at 0515; then drive to the Mystic Starbucks, where I have one "Tall Pike" (black) while doing my daily blog. I return to my studio around 0800 and watch the first half hour of the Today Show on my DVR. Most of my day is devoted to writing, promoting our book and 4Leaf brand, working on civic or yacht club tasks, and at least one hour of outdoor exercise. I strive to eat at the 4Leaf level at every meal, enjoy a cocktail or wine before dinner and hit the sack at about 9:30 p.m. One more thing, with a daily consumption of over 70 grams of fiber from whole plants, I don't waste much time in the men's room—no reading material necessary.
CV – WHAT DO YOU TYPICALLY EAT IN THE SPAN OF A DAY AND ARE YOU A SNACKER?
Bowl of fresh fruit at 0830. Large bowl of oatmeal (cold) with water and almond milk and piled high with more fruit at 1100. Eating only when I get hungry, my largest meal of the day is usually around 2 p.m. and typically consists of some combination of brown/wild rice, black/red beans, broccoli, carrots, mushrooms, tomato, avocado, olive, celery, and a half Joseph's whole wheat pita with a touch of hummus. My evening meal is usually eaten outside the home and typically consists of entrées that are not on the menu—whole plants with minimal oil, butter, cheese or salt. As for snacks, I indulge occasionally in the healthiest popcorn that I can find or I might snack on nuts, grapes, or a little carrots & celery dipped in hummus. You can find my Sailors Daily Oatmeal and Sailors Super Lunch recipes at www.4leafprogram.com
CV – WHAT IS YOUR FAVORITE VEGAN INDULGENCE?
I do enjoy a glass of wine or a cocktail from time to time; although I realize that they are not whole plants. As a part of the 20% of my calories that is non-whole plants, I am very thankful that these indulgences are 100% plant-based.
CV – WHEN PEOPLE LEARN THAT YOU ARE VEGAN, WHAT IS THE #1 QUESTION THEY ASK AND WHAT IS YOUR RESPONSE?
Without a doubt, "Where do you get your protein?" I usually say "Great question; one that I hear quite often. That's the first thing I asked back in 2002." Then, I typically talk about the strongest animals in the world and the fact that all of them eat nothing but raw plants. I usually add that almost every plant has some protein, and many plants have more protein per calorie than sirloin steak.
CV – WHAT VEGAN PRODUCT COULD YOU NOT LIVE WITHOUT?
My Sailors Daily Oatmeal.
CV – IN YOUR WILDEST DREAMS WHAT WILL YOUR LIFE AND THE WORLD LOOK LIKE IN 5 YEARS?
While the meat & dairy-laden Western diet will still be prevalent, many millions of people will have learned more about the health, environmental and other benefits of plant-based eating. Further, as the cost of energy and food continues to rise; more and more people will be choosing the cheaper, healthier and greener option of eating more plants. As for me in 2017, I would like to be speaking on college campuses around the world at least ten times a month—sharing our message with the young people who will be the leaders of the great food revolution of the 21st century. 
CV – THANK YOU!