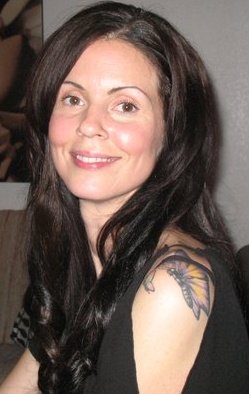 I have met so many wonderful vegans through the Chic Vegan Interview Series.  Regan Forrester is making a real difference.  When she became vegan she noticed that the availability of and her access to vegan shoes was very limited.  Rather than waiting for someone else to solve the problem, Regan dove right in an opened Vshoen.
I mentioned to Regan how much I learned from her interview and how much I feel like I am learning from others on a daily basis and she said,
"I am learning continually – a process that never ends.  But, this is awesome.  It's changed me in so many ways – opening Vshoen and learning so much about animal welfare, the industry horrors, and things I thought to be true but have since learned otherwise.  I feel blessed to be here – to know what I know and to have evolved into a more compassionate person and hopefully affecting change here in my city and with anyone I meet."
When I hear stories like Regan's it forces me to think about what else I can do to help propel the vegan movement forward.  I like to think that I am helping spread the word through Chic Vegan and Veggie Grettie, however I am inspired by other vegans to try and find ways more ways to contribute.
As you read this interview think about what it is you can do and what voids you can fill.
Meet Regan…
CV – What motivated you to become vegan and was it an overnight switch or more gradual shift?
RF – It was a gradual shift.  I stopped eating all meat (fish, chicken, red meat, pork) with the exception of prawns, scallops and shrimp a number of years ago; eliminated all dairy after watching a very small bit of Earthlings about 3 years ago; and completely gave up my "happy eggs" and the seafood bits recently.  I knew my process would evolve as my business was and is building, and it has.
CV – Tell me about Vshoen and what inspired you to create the site.
RF –Vshoen was a concept first born out of my frustration with the lack of options for fashionable and well made vegan shoes.  In my city there were the odd pleather shoe but you couldn't be sure if the glue was free from anything animal, or if the product was produced in a sweat shop.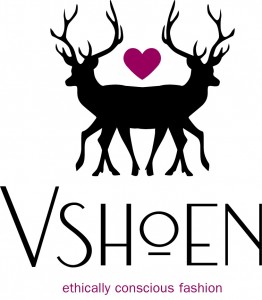 When I gave up eating meat I realized I also had to stop supporting the leather industry. The more research I did into the harmful effects of the leather industry and how horrendous the fur, wool, silk and other industries were to billions of animals, I knew I had to do something to create an option; to help share what I was learning and to help grow in my personal process.
Vshoen is not just a store but a community of people who share the same love for mother earth and the animals sharing our space.  Others are just people in off the street that have no idea what our concept is.  For so many non-vegan/ethical people that walk through our door we realize the general consumer simply doesn't know the truth about the evil industries; so many actually do want to learn more which is our opportunity to share what we know – give them our many handouts.  Its rewarding to have these folks thank us, and tell us how important this is – and that is truly the best reward each day that I get – knowing we're reaching people and hopefully helping to effect change.
CV – Who are your favorite designers?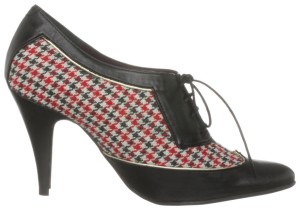 RF – Wow, that's a tough one!  There are so many talented and creative vegan designers but here are just a few of my favourites – Olsen Haus and Mink are absolutely brilliant.  Cri de Coeur is glam and uber comfortable, and  Neuaura is beautifully made, comfortable and a closet staple.  Beyond Skin is classic, stylish and timeless.  Gunas is another brilliant line we're thrilled to carry as each creation is truly a work of art making a bold statement.
CV – What are some of the up and coming trends we can expect to see?
RF – The word "sustainable" is and will continue to be used more and more. Ethical and/or vegan designers will continue to be creative in their process to reduce their environmental footprint.  With spring/summer coming we can expect to see wood wedge heels, colours such as mustard (which I personally love!), corals, pinks and blues; lace, recycled wood heels, and open-toed ankle boots.
CV – Walk me through a day in your life.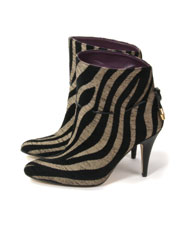 RF – Ha! I wish I had more of a life right now but Vshoen keeps me pretty busy right now. I'm still trying to figure out the work/life balance thingJ  I do manage 1 day off a week so when I'm not at the shop, I relax at home with my partner, Devyn, and 2 cats, Mickey and Pepper, or we spend time with our close friends and family.  I have also made it my mission to get back to the gym and meditate.
CV – What do you typically eat in the span of a day and are you a snacker?
RF – For protein and greens on the go I like to use Progressive Greens.  It's a vegan protein without soy and it comes with a ton of greens all combined.  I keep a lot of nuts, carrots and hummus, oatmeal, fruit, soup or fresh juices at work. As for snacking it would all depend on whether I am in the store or not. I do tend to snack when I'm at the store as it can get pretty busy and I tend to loose hours in the day! When I'm at home I love trying out new recipes, which I'm really enjoying as I am not much of a cook.  I'm lucky to have a supportive partner who also likes to cookJ
CV – What is your favorite vegan indulgence?
RF – Hands down, Coconut Bliss!!
CV – When people learn that you are vegan, what is the #1 question they ask and what is your response?
RF – "Wow, isn't that hard?" and to this I say, "No, because I am making my choice to be vegan from an ethical standpoint."  When I'm questioned further, I tell people a bit about what I do know, or movies I've watched that affected me so deeply (Earthlings) that it's not even an option to continue to contribute to the pain and suffering.  If we want peace on this planet, we all must be more compassionate to people, animals, the earth.  Although its not an easy thing for people to make the lifestyle choice to become a vegan, it's a process belonging to us, individually. But, awareness is the first step!
CV – What vegan product could you not live without?
RF – Hands down, Daiya Cheese!!
CV – In your wildest dreams, what will our life and Vshoen look like in 5 years?
RF – I do have this dream, often.  I see Vshoen being wildly successful and growing much larger.  I see us continuing to bring in more talented designers and expanding our product mix to include clothing, continuing to build our brand by expanding into other cities in Canada and the US and Australia.
Regan is graciously offering Chic Vegan readers an ADDITIONAL 10% off Beyond Skin (they are already greatly reduced) with coupon code CVBS0212 until February 29, 2012.  Click

HERE

to shop the BS sale.
To learn more about Vshoen's mission and what the leather industry doesn't want you to know CLICK HERE.
Featured image of interior of Vshoen courtesy of photographer peterbagi.com