It's the holidays, and the Internet and blogosphere are bursting at the seams with cute holiday recipes, entertaining and food presentation ideas, and affordable, DIY gift ideas!  Just when you thought you couldn't handle any more, today I'm combining all of them in one little recipe that is perfect for serving at or bringing to a party, wrapping up as gifts, or just enjoying alongside a mug of hot chocolate (because we should all be building in some relaxation time, after all).
To make the candies, all you need is chocolate plus add-ins for whatever flavors you desire!  A list of my favorite flavors is included below.
You'll notice that each of the flavor variations includes a topping.  I did this because I was making a variety of candies to serve at a holiday party, and wanted it to be clear which flavors were which.  So, while the toppings are totally optional, they are definitely functional, and pretty too!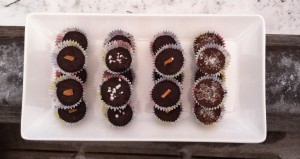 Holiday Candy Cups
Makes 8-10 candies
You need:
4-oz. vegan chocolate (any variety! I use Baker's semi-sweet chocolate bars)
Mini cupcake liners
Mini cupcake pan
Add-ins of choice (see list below for suggestions) 
Directions: 
Use a double-boiler or a simply a microwave-safe glass dish to melt chocolate.  Stir in add-ins and spoon into cups (you may want to use a measuring spoon for this task to ensure the candies come out even sizes).  Place in the refrigerator for 30 minutes to harden.  That's it!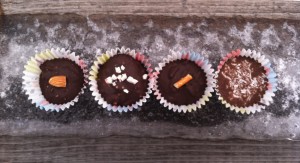 Candy Varieties
Toasted almond: Stir in 15 finely chopped and toasted almonds and 1/4 tsp. almond extract.  Top with a sprinkle of sea salt and an almond chunk.
Mint chocolate cookie: Stir in 2 crushed-up mint sandwich cookies (such as Candy Cane Joe-Joes from Trader Joes) and 1/4 tsp. peppermint extract.  Top with crushed candy canes.
Sweet and salty: Stir in 20 crushed pretzel sticks and 2 tbsp. finely chopped cranberries.  Top with a sprinkle of sea salt and a little pretzel piece. **This one was the clear favorite for my husband and me!**
Coconut: Stir in 1/4 tsp. coconut extract and 1/2 tsp. unrefined coconut oil (optional).  Top with shredded coconut.
To gift these, I suggest presenting them in a tin or in a mug wrapped with cellophane.  I found attractive seasonal mugs at A.C. Moore for $1 a piece.  Festive and frugal!