Welcome to the most coveted day of the week -Friday! Regardless of the day, stress is high my friends! We are right in the midst of this treacherous season we call "the holidays".  Is everyone ready for it to be over or are you enjoying the excitement of it all?  Personally, I want January to come quickly. I have had enough of 2009!
In the past few weeks I have experimented with some cooking.  Not as much as I would have liked, because the time just seems to be escaping through my grasp. I  could cook all day long, I really enjoy it. But unfortunately I have no such luxury.
A few weeks ago our movie night dish was Acorn Squash, Pear, and Adzuki Bean Soup with Sauteed Shiitakes from Veganomicon.  It was pretty easy to make and very filling. The boys seemed to enjoy it. I made double the recipe which ended up being a big mistake because I ended up with way too much! The remainder is now frozen and awaiting another soup-worthy day.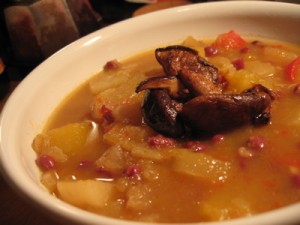 Last night I made Thai lettuce wraps, summer rolls and Savory Thai Stew. I even made my own peanut dipping sauce -and it was awesome! Thai is probably my favorite type of food, ever.
For movie night we are currently reviewing our favorite movies of the past decade.  I chose Eternal Sunshine of the Spotless Mind and The Fall (my official second movie was Lost in Translation, but we have recently watched that.) Doodlebug chose Momento and Sexy Beast. My brother chose Sympathy for Mr Vengeance and O' Brother Where Art Thou?.
Onward to some exciting news for Chic Vegan!! Lately I have been working on some projects that I'm really excited about.
Newsletter
You may have already noticed the little sign up form over to the right. Starting in January we will be sending out a bi-weekly newsletter highlighting fabulous posts on chic vegan as well as other just-as-wonderful places. The newsletter will also include recipes, tips, sales, coupon codes and many other exciting things! If you haven't already, sign up!
A Guide to Being Chic, Vegan and Fabulous: A Free E-Book
I really think a huge problem with the apprehension that some experience when considering going vegan lies in the overwhelming amount of dedication and  research that it initially requires.  For a long time I have wanted to cover everything that is included in living a fabulous vegan and eco-friendly existence, all in one resource. So now I am!! The book is going to be completely free, and chock full of awesome goodies! It will be available for download sometime in January, and hopefully will be a good resource for those looking to go veg in the new year! Stay tuned for more info!
And now for your regularly scheduled Link Party!
Link Party! Chic Vegan Goodies
Shoe heaven for ethical girls on a budget -Cheap, vegan shoes all in one spot!
Holiday gift ideas for everyone in your life – From the bookworm to the fashionista.
Amazing natural cures for your winter sickness – Or, "How I cured the Plague"
20 girlie gifts for under $20 – affordable adorableness!
Link Party! Everywhere Else
Stella McCartney bags HALF OFF!
This Vegan Peppermint Hot Cocoa will be perfect for the snowy weekend coming up in the Northeast.
Top 5 feel good videos of the year.
The 12 Days of Delicious Vegan Treats!!!
Enter to win the foodie holy grail: The Vitamix
Top 10 Vegan Victories of 2009
These home textiles are to die for.
Weird and scary processed foods (Oreos! Nooooo!)
Helpful tips to avoid gaining a pound this holiday
7 foods that experts refuse to eat.
Mixology 101: Cocktails & Cocktail Dresses
The 2000's in Review -tons of "best of" lists
*Peppermint Hot Cocoa image courtesy of Manifest Vegan.