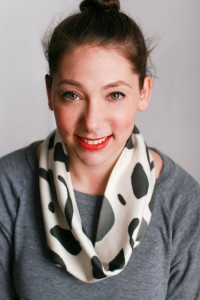 A cowl scarf from Djuna Shay recently made its way into my life and I am diggin' it.  Being the animal lover that I am, I chose to have the "Got Cow" print and it makes me smile every time I wear it.  I appreciate the fact that all of the products offered on Djuna Shay's Etsy shop are made with their own textile designs that they have printed with eco-friendly dyes right here in
the USA; and they are 100% Organic Cotton Knit Interlock to boot!
I contacted Djuna and she was as sweet as can be.  Djuna said that she has been an animal lover since she was a young child and that as she got older she became involved in animal rights.  At the age of 16 Djuna became vegetarian and within the last year she began the process of becoming vegan….yay Djuna!
DJUNA SHAY'S COMPANY ROOTS
The creative force behind DjunaShay is mother and daughter duo Sharron Hedges and Djuna Da Silva.  Inspired by the streets of New York and the fun of life around them, Djuna Shay was born.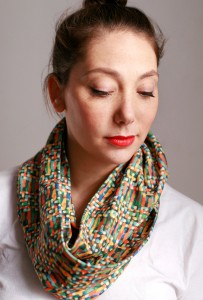 Quickly becoming known for it's bright and bold color pattern prints, Djuna Shay combines the beauty of clean classic lines and shapes with the life of bold printed textiles.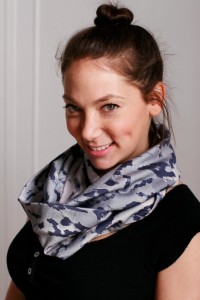 Most scarves are currently offered in two sizes: a cowl, which is one circle of color, and a scarf, which is two circles worth.  Most items shown are ready to ship.
If you are looking for a different length, a straight scarf or shawl, in any of these patterns, or a different color combo—let Djuna Shay know, as many other colorways and designs have been created and are print ready.
For more information about Djuna Shay, visit their Etsy Shop by clicking HERE.
Images by Louisa Parkinson Photography