We are just going giveaway crazy over here at Chic Vegan. We've got Free DVDs, and Cookbooks! We are just giving it all away! We are starting a revolution!
But seriously, I recently received a copy of Christy Morgan's new book, Blissful Bites and it is so lovely! It is easily one of my favorite cookbooks already – and this comes from a diagnosed vegan cookbook hoarder.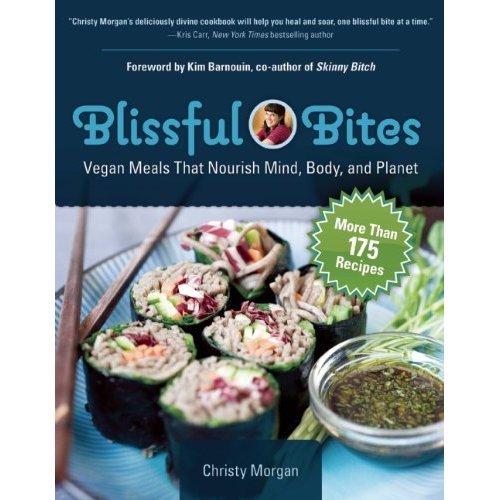 The layout and design of the book is beautiful and fun, this is important because, let's face it – cookbooks that are laid out poorly suck. There are inspirational quotes, tips, and ideas hiding in every nook and cranny.   Each chapter is sectioned off into seasons, so you can prepare food with what is freshest in your area. This is the first cookbook I have ever encountered that does something like this, and I think it is genius!
The emphasis of Blissful Bites is simple food that is nourishing and delicious. Christy will school you on macrobiotic eating, food sensitivities, and how to prepare certain food for optimal digestion. Since the recipes are organized seasonally, there is also a huge emphasis on eco-eating which is something that not many people think about or even know how to do. If you have been wondering how to make the best of your farmer's market score, than this is the book for you!
My favorite recipes so far from the book are the Tropical Three Bean Salad, Sushi Rice Bowl, Magical Raw Tacos, and the Indian Pizza with Mango Chutney (see below). I can't wait to dig through the rest of the book and truly be nourished by the rest of Christy's recipes. And that is exactly how I would describe this book if I had to sum it up in one word: nourishing.
You guessed it, we are giving away a copy of Blissful Bites to one lucky (or persuasive) Chic Vegan reader. All you have to do is leave a comment telling us what nourishes you. It can be something that nourishes your body, or soul. Get creative! Only Chic Vegan Newsletter subscribers are able to enter, so make sure you are signed up!  The last day to enter is 9/5.

**To get entered TWICE, tweet this: "Win a Free copy of the @theBlissfulChef's new cookbook Blissful Bites from @chic_vegan http://bit.ly/n9y20u" **
And as promised… an amazing recipe from the cookbook in question: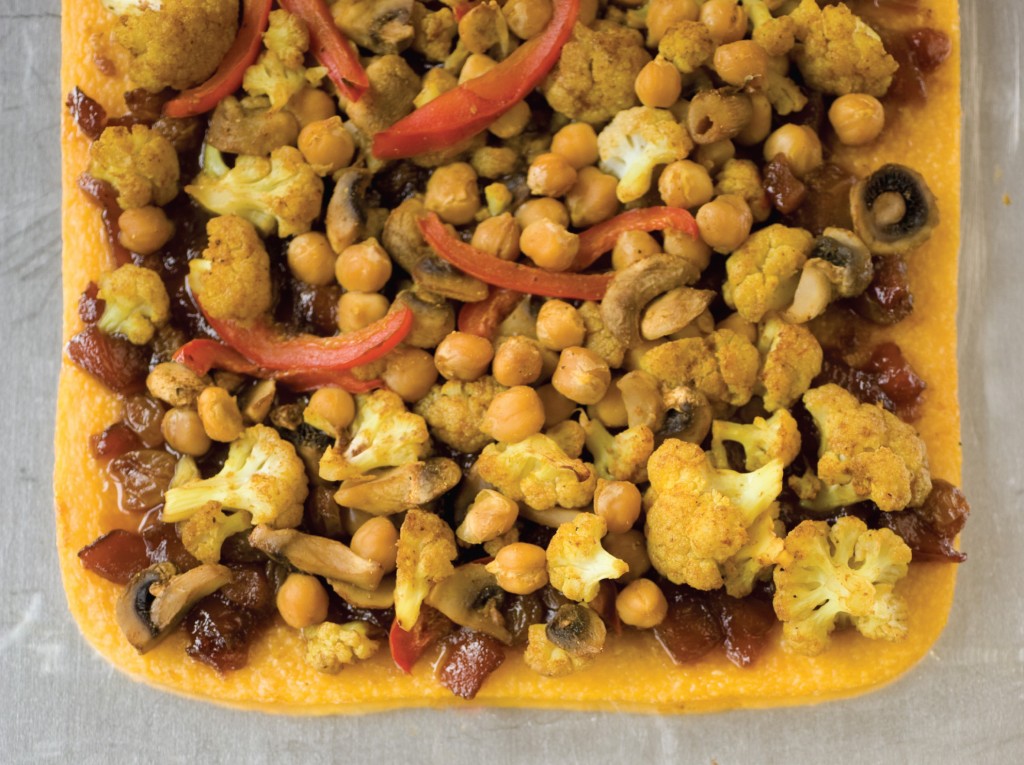 Indian Pizza with Mango Chutney
For The Pizza
3 cups cooked polenta
1/2 cup filtered water
2 cups cauliflower florets
1 cup red bell pepper, thinly sliced
1 tsp curry powder
1 tsp garam masala
1 cup of cooked chickpeas or 1 can
1 Tb tamari
Mango Chutney
1/2 cup coconut palm sugar
1/4 cup red wine vinegar
pinch of sea salt
2 cups of frozen mango, defrosted and finely chopped
1/4 cup golden raisins
1 Tb grated ginger
dash of red pepper flakes
dash of coriander
1/4 teaspoon of curry powder
Directions
For Chutney: Combine sugar and vinegar in a small saucepan and bring to boil over medium-high heat. Reduce flame to low and simmer for 5 minutes. Add the rest of the ingredients and bring back to boil. Simmer, uncovered for 45 minutes, stirring occasionally. Meanwhile, make your polenta crust and toppings.
For Crust: Cook one cup of polenta with 3 cups of water and a pinch of sea salt until a porridge consistency is created. Pour hot mixture into a 9×13 casserole dish and let cool completely. Once cool, flip onto a greased baking sheet and bake for 30 minutes at 350 degrees.
For Toppings: Meanwhile, water saute veggies with spices, chickpeas, and tamari with lid on. Stir occasionally for 10 minutes or until cauliflower is tender. Remove lid and cook until water is absorbed.
To assemble pizza, spread the chutney all over pizza crust, then top with veggie mixture. Bake at 350 degrees for 15 minutes.
Cut into squares and enjoy!
This is probably the most complicated recipe in the whole book, but it is my absolute favorite recipe so far. The above photo is straight from the Blissful Bites cookbook, because my food photography is "a work in progress".
Enjoy and good luck!