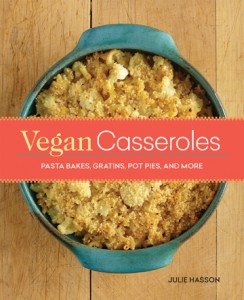 Baked Penne with Pumpkin Cream Sauce from Vegan Casseroles by Julie Hasson is the perfect autumn dinner.
We're super excited to be hosting Julie Hasson on her Vegan Casseroles blog tour today. When it comes to traditional comfort food, most of the key ingredients are off-limits to health-conscious vegans. But giving up shepherd's pie, eggplant parm, and cheesy rice casserole was not an option for Julie, who took on the challenge to recreate flavors she loved, but without the cheese, eggs, butter, and cholesterol. The results are a mix of retro flavors, such as Nacho Cheesy Sauce and a lighter Cream of Mushroom Soup, and fresh, veggie-forward dishes like Mediterranean Stuffed Cabbage Rolls and Summer Corn Custard. The recipes come together quickly, focus on healthier substitutions without the tans-fats, and are endorsed by some of the toughest critics, Julie's college-aged children and their visiting friends!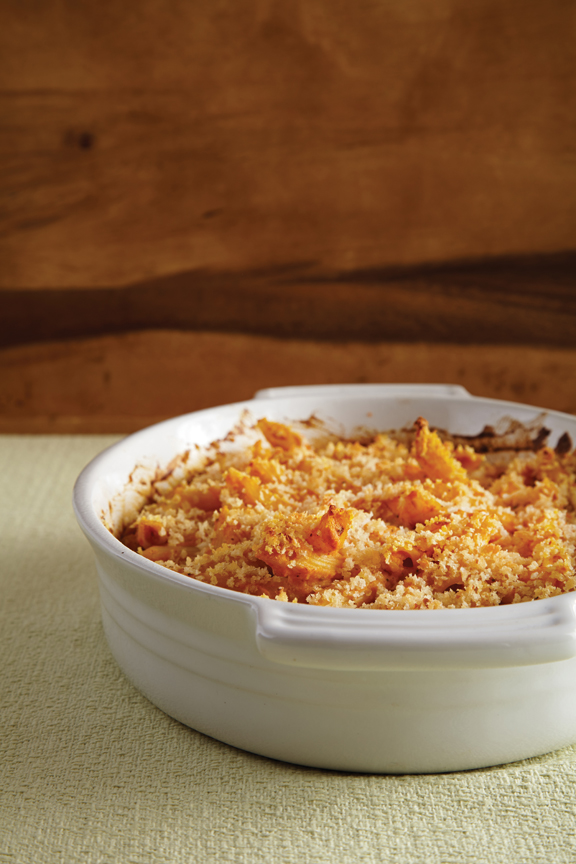 Check out the giveaway after Julie's recipe for a chance to win a BlendTec 725 Designer Blender! Five runners up will receive a copy of Vegan Casseroles.
Baked Penne with Pumpkin Cream Sauce
Pumpkin is always a fall favorite, although you can enjoy this dish anytime of the year. The sauce has a hint of sweetness from the pumpkin but also a nice savory flavor from the sage and onions. I think this dish has become one of my daughter's favorites.
Serves 4 to 6
Ingredients
12 ounces dried penne
1 tablespoon olive oil
1 medium sweet onion, cut in half and thinly sliced
3 large cloves garlic, pressed or minced
11/2 cups plain unsweetened soymilk or almond milk, plus more as needed
1 (15-ounce) can puréed pumpkin (not pumpkin pie mix)
5 tablespoons nutritional yeast flakes
1/4 cup raw unsalted cashews, soaked for at least 2 hours and drained
11/4 teaspoons fine sea salt
1 teaspoon dried rubbed sage
3/4 teaspoon freshly grated nutmeg
Salt and freshly ground black pepper to taste
1 recipe Buttery Crumb Topping (see below), prepared without nutritional yeast flakes

Preparation:
Preheat the oven to 400°F. Grease an 8-inch square glass or ceramic baking dish.
In a large pot of lightly salted boiling water, add the penne and cook according to package directions until al dente. Don't overcook the pasta, especially if you're using one that is gluten-free. Drain the pasta well and transfer to a large bowl.
While the pasta is cooking, prepare the sauce. In a large cast-iron skillet, heat the oil over medium-high heat and sauté the onion until soft. Add the garlic and cook a few more minutes. Remove from the heat.
In a blender, purée the onion mixture, soymilk, pumpkin, nutritional yeast, cashews, salt, sage, and nutmeg. Blend until the mixture is super-smooth and velvety, and no traces of nuts remain. If the sauce is too thick to blend, you can add up to an additional 1/2 cup of nondairy milk.
Add the pumpkin sauce to the pasta, stirring until the pasta is well coated. Add salt and pepper to taste. Scoop the mixture into the prepared baking dish. Sprinkle the crumb topping over the top of the casserole. Bake for 20 to 25 minutes, or until the casserole is hot and the top is lightly browned. Remove from the oven and serve hot.
Tip: If you're using a high-speed blender, you can skip the soaking step for the cashews and just use them dry. Add a little extra water to blend if needed.
Variation: Substitute fresh or dried rosemary for the sage.
Gluten-Free: Use a gluten-free pasta, such as brown rice, as well as gluten-free panko breadcrumbs in the topping. My favorite gluten-free pasta for this recipe is brown rice penne.
Buttery Crumb Topping
A nice buttery crumb topping is my husband's favorite part of a casserole. It is especially good on everything from mac and cheese to vegetable casseroles, as it adds a nice rich, garlicky crunch. Crumb toppings are also open to a number of variations, depending on how you season them.
Makes about 1/2 cup, enough to top an 8-or 9-inch casserole
Ingredients:
1/2 cup panko breadcrumbs
2 tablespoons nonhydrogenated vegan margarine, melted
1 tablespoon nutritional yeast flakes
1 clove garlic, pressed or finely minced
Pinch of salt
Preparation:
In a small bowl, mix together the panko breadcrumbs, margarine, nutritional yeast, garlic, and a pinch of salt. Adjust seasonings to taste.
Tip: You can substitute olive oil for the margarine, if desired.
Variation: For an herbed-garlic-flavored topping, add 1 tablespoon chopped fresh herbs. For a richer topping, increase the margarine to 3 tablespoons.
Gluten-Free: Use gluten-free panko breadcrumbs. My favorite brand is Ian's, which is also egg-free and dairy-free.
Reprinted with permission from VEGAN CASSEROLES © 2014 by Julie Hasson, Running Press, a member of the Perseus Books Group.
Follow the instructions below for a chance to win a BlendTec 725 Designer Blender. Five runners up will receive a copy of Vegan Casseroles. US residents only please. Contest ends December 11th.