Thanks to everyone that participated in our Thanksgiving Giveaway! It was really fun to read what everyone is thankful for, and also to make new Twitter friends! (I'm a junkie.)
Taking all of our entries in chronological order from Twitter, Facebook and the comments we had a total of 49 entries! And the mystical random number generator has chosen number 16!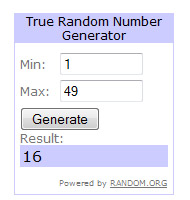 Number 16 just so happens to be Miss Lindsay from Cooking For a Vegan Lover!  Congrats Lindsay!
Thanks again to everyone who participated! There will be much more where this came from 🙂