Common store-bought sunscreens are absolutely overflowing with toxic chemicals, endocrine disruptors and cancer causing nasties. This is incredibly ironic for a product that is supposed to be protecting us from the cancer-causing effects of the sun. As always, the Environmental Working Group has done a great job at compiling all the information you need to aid in choosing the proper sunscreen that will protect you and your family in every way. This includes a hall of shame, and the best products you can buy. Below are some of my faves.
On top of SPFs you can protect yourself from UVA and UVB rays by wearing a hat and sunglasses, and eating a diet rich in EFAs(oils), vegetables and legumes. It is proven that a healthy diet will reduce your risk of burning way more than any topical agent will. Also remember your body needs Vitamin D to function. As a vegan it is hard to get Vitamin D from a non-fortified source, and the sun's rays provide us with tons of D. That being said you may want to use sunscreen instead of sunblock (I personally never go over SPF 30, and I am very pale), but as always you should take your personal experience and your own needs into account when deciding this.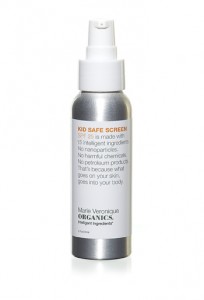 Marie Veronique Organics Kid Safe Screen, SPF 25
This lightweight and quick-absorbing formula works just as great for adults as it does for kids. It contains no harmful chemicals, nanoparticles, parabens, petroleum products, fillers, waxes or fragrances. This is my favorite sunscreen – I carry it in my bag!
Desert Essence Age Reversal SPF 30 Mineral Sunscreen
This lotion contains Vitamin E, Pomegranate Extract, and Grape Seed Extract. All to help reduce free-radicals and nourish your skin while protecting it!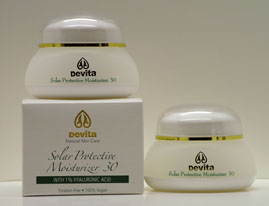 Devita Daytime Solar Protective Moisturizer SPF 30
This fancy little guy absorbs quickly and completely and contains two different sun screens for ultimate solar protection. This formula was created specifically for those sensitive to breakouts.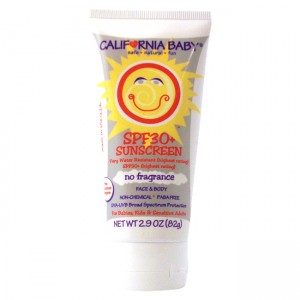 California Baby No Fragrance SPF 30+ Sunscreen Lotion
Did you know that The American Academy of Pediatrics (AAP) states that if exposure to the sun is unavoidable and your baby is under 6 months, a non-chemical sunscreen should be used? That is why your best bet is to use baby or kid sunscreens This one is awesome!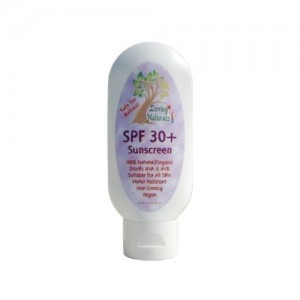 Loving Naturals SPF 30+ Sunscreen
This formula is water-resistant and made up of some outstanding all-natural and organic ingredients.