Print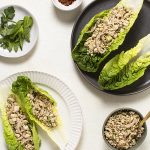 Larb Salad
I grew up with many Hmong friends, who introduced me to the traditional version of this dish. I've since given it a healthy, plant-based makeover, and my version is crammed with flavor.
Heat the oil in a saucepan over medium heat. Add the tofu and 1 tablespoon of the lime juice, and sauté for 4 to 5 minutes or until the tofu is light brown.

Place the tofu in a medium bowl and combine with the remaining 2 tablespoons lime juice, cilantro, soy sauce, green onion, jalapeño, onion, and mint. Mix well.

Serve in the lettuce leaves.