Smelling like a fruit bowl isn't exactly my thing. In middle school when all the girls ran to Victoria's Secret or Bath and Body Works for scented everything, I lived off of the clean and pristine shower steam home to nothing but me and my bar of soap. Calling me scent sensitive is a understatement because as cute as those popular glass rollerball fragrances are, they never stay in my purse or bathroom cabinet for too long.
It never occurred to me I just hadn't found my niche- woodsy and calm. This girlie girl would never have pinned herself down as a nature scented person, but alas, here I am about to rave about Qonai's perfumes.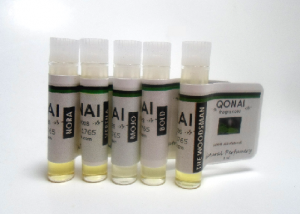 Upon opening the package from Qonai I immediately smelled the most heavenly potpourri that came with the samples I received for review. This little mesh decorative accent was the perfect introduction to the mini viles that followed. Eager to explore the range of scents Qonai recently started their business with, I began by dabbing a bit of sensual chocolatey Nora on my wrists. And… no skin reaction! Hurray! Qonai's perfumes are 100% natural oil based and non-alcoholic. This is great for my sensitive skin (I'm just an all around sensitive gal).
I should warn everyone that you get more than your money's worth with Qonai's perfumes because they are super concentrated. A drop is more than enough to leave a musty trail in your wake. Qonai has 2 designated female scents (Nora, Verena) and 3 unisex scents (Mojo, Bold, The Woodsman). I like Bold the most due to it's ironically subtle smell dominated by Bay Laurel to help with serenity. Mojo is the strongest smelling according to my nose, although maybe I'm just not adventurous enough for this adventurously scented fragrance. Verena also packs a punch with it's exotic ingredients of ylang ylang, blood orange, rose absolute and ambrette seed musk. Last but not least The Woodsman would be appreciated by the manly men in your life in addition to your sister due to it's equal woodsiness and sweetness. They would be great for couples to share.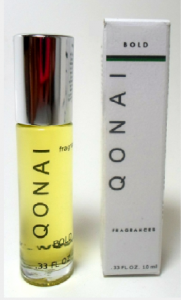 Not one with nature in the slightest, I love that I can get my forest fix with Qonai. I felt a bit like a Disney Princess surrounded by woodland creatures, but maybe that's just my overactive imagination.
Qonai is the perfect natural alternative to the over powering toxic flower perfumes saturating the counters at Macy's.
And at a price point of $40 a bottle, it's more affordable too. Indecisive? You can also pick up the sample set with all 5 scents I tried for $20.
Although technically fragrances for the body, why stop there? I say scent your entryway or living room with these for a welcoming sniff of air.