Several vegan perfumes are, by the nature of the their ingredients, very earthy and calming. 
Not everyone wants to channel their inner Jane of the jungle, Tarzan's vine swinging girlfriend though. If woodsy isn't your bag, then I'm pleased to introduce to you a line for the ages. Harvey Prince perfumes resemble the spirit, essence and scent of feminine designer fragrances without the nasties. Imagine subtle plus girly plus chic. There's nothing like spraying yourself pretty right before heading out the door on a date. 
The power isn't in the fragrance but in you. Leave people sniffing for more and not holding their nose when you breeze by the copier, step into an elevator or go to hug a friend. 
They say "Heyyy ;)" instead of "I'M HERE".
What makes these so special, you might ask? For one, it's family run but impressively has a corporate structure. Started by two brothers who wanted to craft something gentle but feminine for their mother, the company was born.
Secondly, the bottles are just as fancy as the ones you see in the department stores. Packaging is everything people! Vegan doesn't have to mean green leaves and hemp. It can, but it doesn't have to. 
I received a rollerball (Ageless), a few sample sized sprays (Hello, Journey and Cherie Blossom) and a full size spray (Happy). All were elegant, sleek and probably jealously inducing if I popped one from my purse. That's another thing- all purse size! Small bag ladies rejoice- leave your parfumerie at home! 
Their range is impressive with different fruits taking turns playing the lead. I honestly can't choose a favorite because I will continue to wear them all- for someone who rarely wears perfume that says quite a lot!
There's appropriately named "Hello" whose musky scent is derived from Meyer Lemon, White Grapefruit, Satsuma Mandarin, Summer Forsythia, and Pink Plumeria among others. It's subtle yet wearable notes make Hello the perfect daytime fragrance. What seems strong in the bottle becomes nothing more than a smile inducing whiff as you strut your stuff down the sidewalk.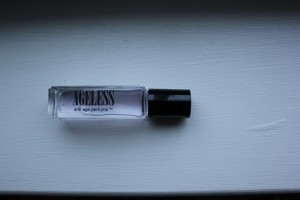 The next fragrance I tried was Ageless, which came in rollerball form. Labeled the "anti-age perfume", I can't speak to it's promise of making me smell younger by 8-12 years as study participants claimed, but I can attest to it's loveliness. It was created to mask the scent of the breakdown of fatty acids in skin, aka that "old age" smell your grandmother might have (I think?). With Pink Grapefruit and Pomegranate as high notes, it's very sensual.
Journey, an exotic scent for the backpacking and beach going beauty, invokes a sense of adventure with Australian Sandalwood, Indian Tuberose, and South African Freesia. It smells like summer camp for adults with a lot of excitement (and a pool party or two) mixed in.
Finally, Cherie Blossom hits your nose with a coy sweetness of (what else?) cherry blossoms perfect for a first date. Harvey Prince calls it "the epitome of both rebirth in Japan and the power of a classic French seductress." I agree!
While testing all of these perfumes I couldn't help but sniff myself every 5 minutes, like a dog. Harvey Prince just has that je ne sais quoi, it's hard to even put them in same league as the overpowering perfumes cluttering mirrored vanities everywhere.
Other scents of theirs channel your inner yogini, skinny chicness and seductiveness. They offer their products in rollerball or spray bottle form, even branching out to shower gel for a few popular scents like Ageless and Hello.
Harvey Prince believes in bringing out your inner star with the help of a flattering scent. With myriad choices channeling different emotions and head spaces, I am confident is saying that Harvey Prince has a scent for everyone.
Harvey Prince is generously giving a tall perfume spray to three lucky Chic Vegan readers. Follow the instructions below to enter. U.S. residents only, please. Contest ends at midnight Eastern time on July 7th, 2014. Good luck!