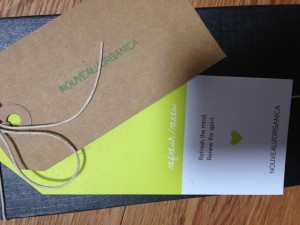 Traveling is a bitch. I don't know anyone who gets pleasure out of standing in line to check luggage, sleeping on plastic chairs while you wait or the itchiest blankets on earth. Topping all of that off though is when a TSA officer tosses your beloved lip gloss/shampoo/perfume. Every single flight I take I somehow manage to pack a larger than acceptable beauty item. On my way to Israel once, that was toothpaste and sunscreen (Did I mention it was SUMMER in Israel?). Luckily, the guy let me choose which to keep. It took me all of half a second to pick the sunscreen, because my skin is about as clear as the Red Sea.
I'm smarter now, which is why I got excited at not only the prospect of trying Nouveau Organica's newest makeup palette Refresh/Renew but realizing the packaging is pure genius. A sleek, aesthetically pleasing palette full of primer, foundation, highlighter and the most flattering eye, lip and cheek colors is one heck of a find. With a magnetic closure and all solid pieces it's really fun to open and close!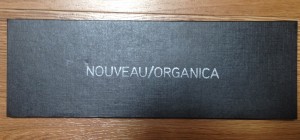 Putting my five year old tendencies behind me, this palette makes any makeup routine plain easy. I first tried the primer and foundation (in Light) by dabbing a beauty sponge with the product all over my face. The "Light" shade was a perfect match for my skintone and made me look flawless without any other color.
Side note: if you wear nothing else, flawless skin is always in.
Only a layer or two was needed, and I honestly looked like I was wearing no makeup. The pots might look shallow but don't let appearances fool you- there is major product in there! 39 grams in total, but who's counting?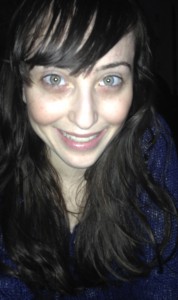 The quality of pigment is paramount, and these are rich with flattering colors that bring out your natural glow. I'm honestly pretty terrible at putting on make-up and get pumped when I swipe on blush without having to take a sponge to re-blend or wipe it all off and start over again. This palette is idiot proof for it's consistency and well curated colors that go together perfectly. Sometimes too many options is a bad thing- this palette gives you everything you need and nothing more.

The lip colors double as blushes, and their texture is thinner than a lipstick but thicker than a stain. I loved how easy they glided on and held their color for hours. For a dramatic look you can layer it on or for a more matted look you can blot a few times. Either way the colors look natural and never overdone.
I'm very pleased overall with the palette and would definitely recommend others consider purchasing it, especially if you're planning a vacation! This is travel-size at it's finest folks. At the very least I would suggest trying their foundation and one of their lip/cheek colors. My favorite was the second to last color in the second row, but who would have thought I'd become so obsessed with their foundation? 
The best part? Nouveau Organica even offers customizable 4 pot mini palettes. Truly travel size, whether you get the Refresh/Renew or make your own, it's a win-win!